Dust suppression role at Waterloo
16 May 2018
Skanska has chosen Generac Mobile Products' Dust Fighter range for the rail platform upgrade at Waterloo.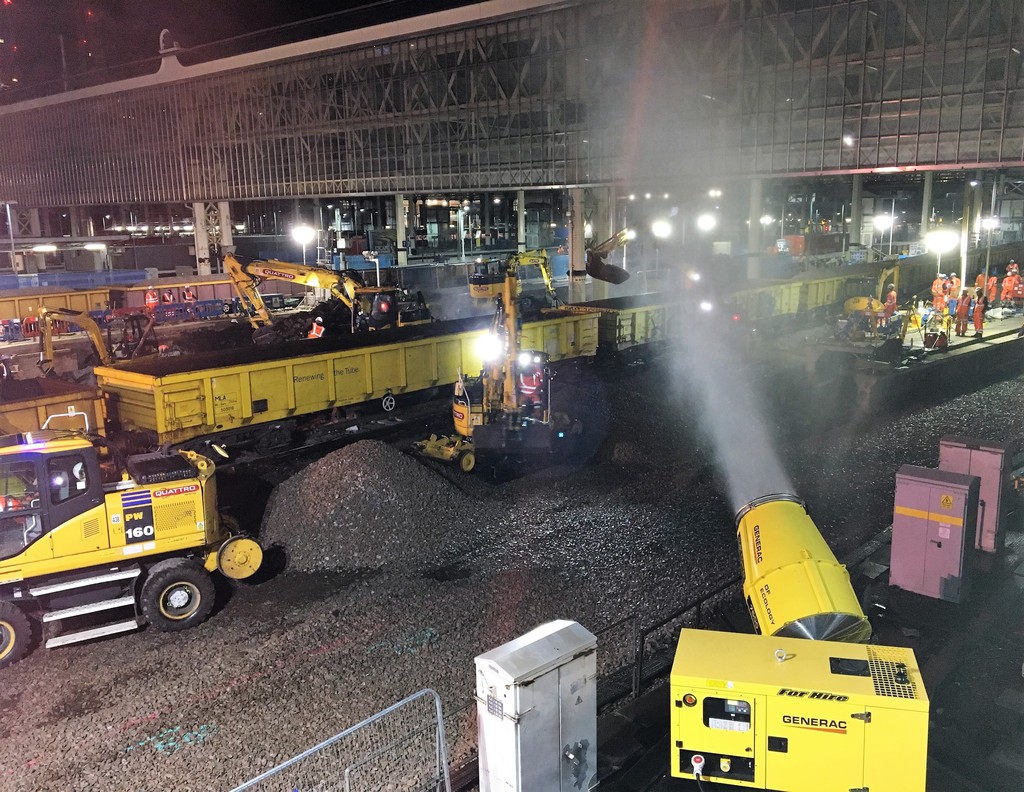 Working in partnership with Skanska who, through an Alliance of companies (AECOM, Colas Rail, Mott MacDonald & Network Rail), were awarded the contract for design and improvements works to complete a package of complex upgrade works at Waterloo Station and along the Wessex route, the Alliance selected several short to long dust fighter units including the MPT 7500 with 2000L tank and 22kVA generator.
The Dust Fighter range was chosen for its versatility and breadth of application. A key health and safety requirement, the dust fighter units were deployed to control, cover and reduce dust contamination into neighbouring platforms, operational train routes and passenger terminals.
The robust MPT 7500 Mobile Power Tank (MPT) was selected to dampen down dust particles as ballasts were being loaded and unloaded into the freight wagons and cover an area of up to 40m. The DF 7500 MPT is an 'all-in-one solution' since it equips a DF 7500 dust control unit combined with a 2000 litre stainless steel water tank and to a 20kW power generator. It is a completely independent machine that is said to be usable in every kind of circumstance, even in remote areas, and suitable for under and over ground rail projects.
Neighbouring platforms were supported by the compact DF Mini units which were placed close to active platforms to avoid contamination and improve the general environment for passengers and operational trains. These are suitable for indoor use due to the small upright positioning and 70L tank capacity.
For residents, offices and buildings close to the station, dust particles were dampened and controlled by the DF Smart range to reduce dust particles in the atmosphere and provided coverage of up to 13m.
The Generac dust control units provide operators with a range of options based on the performances and the size of the area which require coverage by the nebulised water.
The nebulised water used in the units is essential to capture and easily combine with dust particles to drag them to the ground.
Such a system is effective and sustainable, as the dust can be suppressed quickly, reducing water consumption and preventing muddy work areas created by pools of water from some traditional methods.
Tim Ryall from Skanska said: "Complex and fast-moving projects such as this need suppliers who can adopt a solution focused approach and we have been impressed by the level and understanding of our needs shown by Generac Mobile Products which was matched by the performance and reliability of its products."
OTHER ARTICLES IN THIS SECTION