New models join electric truck range
12 July 2018
Building on the success of its 80V EDiA EX, Mitsubishi Forklift Trucks has announced the latest addition to its electric range – EDiA EM. Intelligent and agile, this range of 1.4 to 2.0t 48V electrics is engineered to deliver manoeuvrability, power and reliability.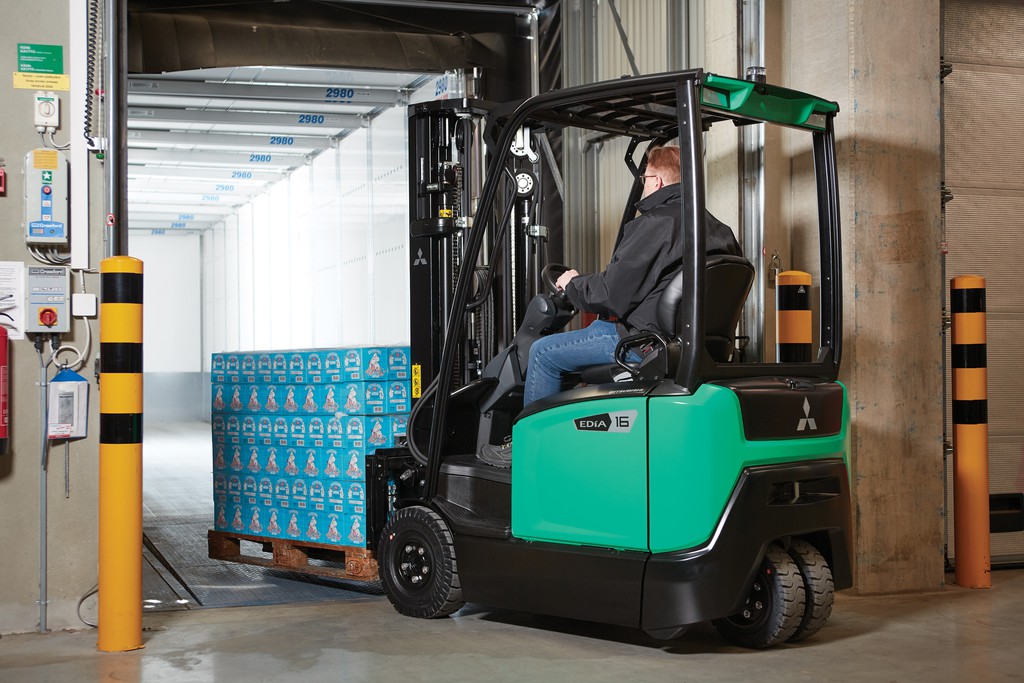 EDiA EM's sophisticated software examines and analyses real-use data – automatically adjusting the truck's parameters to ensure operations are safe and productive. For drivers, this means that – regardless of load weight – they can expect the same, predictable response.
Every model has the Mitsubishi SDS (Sensitive Drive System). It automatically smooths start and stop movements, increasing agility and adapting the truck's performance to the speed of the driver's foot movements.
In addition, EDiA EM benefits from Intelligent Curve Control as standard. Sensing the angle of a turn, ICC responds automatically by seamlessly reducing speed very early in the manoeuvre – for stability and accurate, positive cornering.
EDiA EM is agile, thanks to its >100º steering axle and dual drive motors. These provide smooth on-the-spot turning – without the initial tyre 'push' which can quickly wear down tyres.
By thinking 'outside the box', the team was able to boost visibility. A low, counterweight design ensures good rear vision, and in the fully adjustable operator compartment forward vision is free of obstacles due to the low-profile narrow bulkhead dashboard and small, featherweight steering wheel.
There is improved visibility through the triplex masts due to a clever mast redesign. In addition, the EDiA EM mast incorporates close-coupled hoses to widen the view for operators.
Responsive, highly-ergonomic controls, improved legroom, and a low-noise design all work to minimise operator fatigue – thereby minimising the chance of accidents.
In busy operations every second counts. The 3-wheel model of the EDiA EM series can be specified with 360-degree steering — as found in Mitsubishi reach trucks — allowing the driver to reverse directions smoothly, precisely and — most importantly — without stopping.
Not only can this speed up turn times and maximise productivity in tight spaces — even in containers — but it can reduce the amount of centrifugal force acting on a load, which could cause unsteady loads to fall.
OTHER ARTICLES IN THIS SECTION