Endless wire cuts cost of welding
16 May 2018
Kverneland Group develops, manufactures and distributes agricultural machinery and services. At its factory in Klepp, Norway, it produces ploughs whose longevity is attributed largely to Kverneland steels and the company's in-house hardening processes.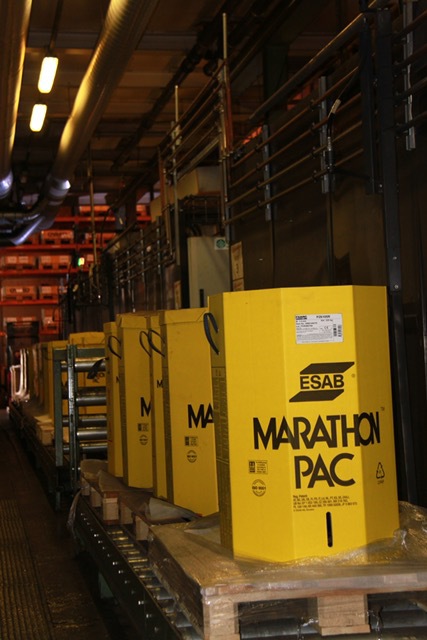 State-of-the-art automation ensures productivity is very high. One recent development has been the upgrading of six robotic welding cells to use ESAB's endless wire, which has boosted productivity and achieved cost savings.
The six welding cells now consume ESAB FILARC PZ6105R 1.4mm welding wire at a combined rate of 120t/year. Previously Kverneland used ESAB's Marathon Pac bulk drums of welding wire. Recently added 'endless' technology features a portable butt-welding device to join the end of one Marathon Pac drum to the start of the next, so the robotic welding operation is never interrupted. Kverneland can leave the robot cells running overnight, unattended, which saves the company £10-15,000/year. Furthermore, Kverneland no longer has to scrap the wire at the end of the Marathon Pac, which it sometimes had to do in order to avoid the wire running out mid-weld; this elimination of waste results in another direct financial saving.
Wire Choice
ESAB FILARC PZ6105R is a metal-cored wire for robotic welding of single- and multi-pass fillet welds in the downhand and horizontal/vertical positions. As welded, the typical mechanical properties are 32% elongation, tensile strength of 558MPa, yield strength of 453MPa and a Charpy impact value of 55J at -40°C. Depending on the welding parameters and wire feed speed, 1.4mm diameter PZ6105R can be deposited at rates to 7.2 kg/h. Thanks to these properties and the wire's excellent start performance, arc stability and good feeding characteristics, FILARC PZ6105R has proved to be an efficient choice for welding Kverneland's ploughs.
To help maximise the productivity of its robot welding cells, Kverneland invited ESAB's Value Added Engineering (VAE) team to undertake a study. Odd Lorentz Pettersen, team leader at Kverneland Group Operations AS, explains: "The VAE team analysed the welding process for each segment of the welds and undertook tests at the ESAB Process Centre in Gothenberg. They then made recommendations for the robot welding speeds so that we could reduce the cycle time without compromising quality. All six robots are different, and they all perform slightly different welding operations, so the VAE team had to look in detail at all six robot cells. As a result of the VAE project, we are now saving about £20,000 per year."
Manual welding
There are some applications for which robotic welding is unsuitable, so Kverneland has recently invested in 20 ESAB Warrior welding machines. These multiple-process welding machines benefit from inverter technology coupled with simple controls and a bright, clear display. Importantly for Kverneland, the machines are also very robust and have proven to be reliable. Compared with the machines Kverneland previously had for manual welding, the Warriors are easier to use and achieve higher-quality welds. When welding with ESAB FILARC PZ6105R wire, the machines are easy to start, have good gap-filling capability and produce a good finish.
Odd Lorentz Pettersen is very pleased with the ESAB equipment and consumables, saying "ESAB machines are robust, reliable and produce high-quality welds. The welding wires are also very good, and we have made significant savings by switching to endless wire for the robotic welding processes. ESAB is a great company to deal with, the people are always very helpful and the VAE team achieved excellent results by optimizing the robotic welding processes."
Kjetil Hansen, sales engineer with ESAB Norway, adds: "Kverneland is always interested in looking at new ways to do things so as to remain at the forefront of plough production. And our VAE project showed what can be achieved when you take a fresh look at an automated or robotic welding operation that you think is already efficient. We will continue to work closely with Kverneland to ensure their welding equipment, consumables and processes are optimised for their production requirements."
OTHER ARTICLES IN THIS SECTION