LATEST NEWS
Cutting edge alloys for resource efficiency
01 July 2015
Engineers from the University of Sheffield are addressing the vital need for resource efficient metal alloys as part of a new multimillion pound research project in partnership with three leading UK universities.
[Read More]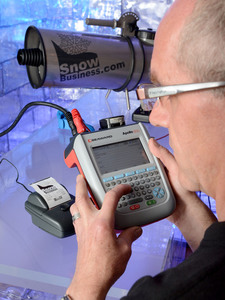 03 July 2015
For more than 30 years Gloucestershire-based Snow Business has supplied specialist artificial snow making equipment to transform film sets, advertising locations and other special events into amazing winter wonderland scenery. To make sure the specialist electrical equipment used to create the spectacular visual backdrops remains safe to operate, the company has turned to the Seaward Electronic and its Apollo 600 portable appliance tester. [Read More]
SPONSORED CONTENT



KING'S BOILER HIRE are the UK's largest providers of temporary industrial boiler plant. [Read More]


More Sponsored Content
HOT TOPIC
Sometimes referred to as the fourth utility, compressed air is used for a diverse range of applications. In this section, you will find details of a wide range of air compressors, ancillary equipment, and services all designed to help boost efficiency.
[Read More]