Insight into oil health
05 January 2019
The new Particle Pal Life self-contained portable measuring system from Filtertechnik builds on the success of the company's award-winning Particle Pal. This new offering provides real-time ISO cleanliness readings, together with water content and oil condition information for more than 500 commonly used oils – all within one compact kit.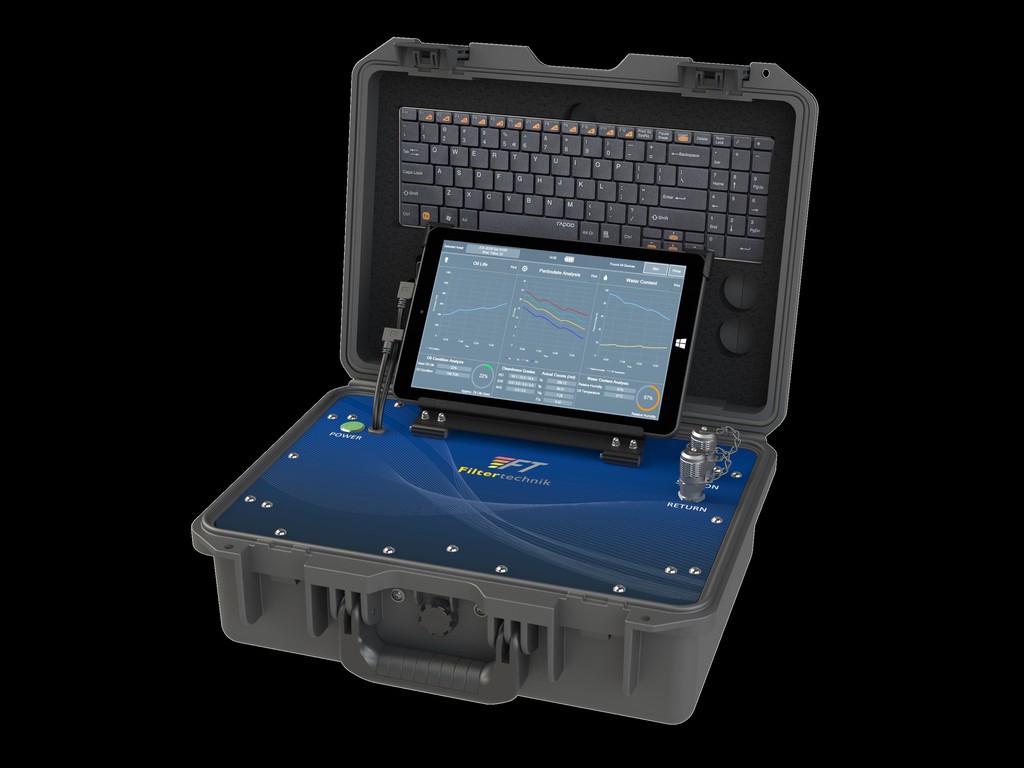 Particle Pal Life can provide detailed insight into the health of oil in real time, measuring particulate and water contamination and predicting the oil's remaining life, helping engineers to make informed choices regarding oil replacement or treatment planning.
A 10in touchscreen LCD tablet allows users to view data in clear detail, while a zoom facility can be used to focus on specific results. Oil ageing profiles for over 500 oils are embedded in the software, as well as the ability to self-calibrate an oil life profile should a particular oil not be on the database. This is a one-time routine in which oil is taken through a calibration cycle.
Sensors
Oil contaminated through water or particle ingress or coming to the end of its life through additive depletion or excessive oxidation should be monitored closely.
The built-in Tan Delta full spectrum holistic oil condition sensor monitors the overall condition of the oil, providing data with a high level of sensitivity and accuracy. The sensor introduces a high frequency AC waveform which measures the oil's ability to store energy (capacitance) and to conduct current (conductance). These two factors indicate how much damage has been done to the oil, expressed as the Tan Delta Number (TDN) which is given as a decreasing number value from a baselined new oil, displayed in real time to the user.
Filtertechnik states that its laser particulate counters are accurate to within ±0.5 of an ISO 4406 code with a repeatability of ±0.1%. Reporting in ISO, SAE and NAS classes as well as giving the particle quantity counts in 4, 6, 14 and 21 micron sizes.
Water in oil causes additive depletion, microbial growth and encourages contamination from solids. The in-built water sensor shows the humidity of any oil as percentage saturation.
Lightweight and heavy duty, the outer casing of the Particle Pal Life is suitable for working in the field. All Particle Pals are portable field kits with their own pump and battery packs which can last up from 3 to 6h (depending on oil viscosity). Samples can be drawn from equipment running live under pressure or drawn into the unit via a sample bottle. Viscosities to 420cst are catered for as standard with higher viscosity oils capable of being measured if pre-heated to 40-55°C. Engine oils can be measured for water content and oil life but not ISO codes as laser particle counters do not work on opaque fluids.
A built-in SIM card provides an option for data to be automatically transferred off-site and backed up and viewed at any time. Once data is logged it can be recalled at any time to build trend history.
Software updates and an off-site back-up licence for the first year are included. Every 12 months thereafter there is an optional charge for annual sensor verification/calibration, off-site back-up and software updates, including all new oils profiled.
Particle Pal Life is suitable for use in a wide range of applications, including power generation, off-road mining and construction, wind power, hydraulic and marine.
OTHER ARTICLES IN THIS SECTION