Royal visit to technology park
18 December 2018
The Duke and Duchess of Sussex have officially opened the University of Chichester's new Engineering and Digital Technology Park. Part of the tour of the £35m development, based at the Bognor Regis campus, was a visit to the Department of Engineering and Design.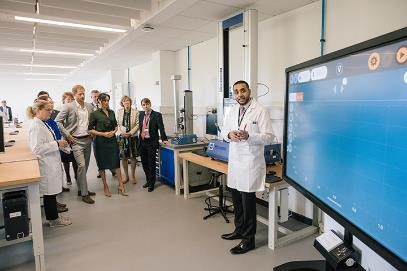 The laboratory features several Mecmesin force measurement machines. These include a 50kN OmniTest universal testing machine, a state-of-the-art software-controlled materials testing system. Local engineering student Louise Grainger explained the capabilities and practical educational benefits of the equipment, after which the Duchess initiated a live tensile test demonstration, commenting: "It's a very cool machine."
Mecmesin's links with the University of Chichester extend beyond the provision of equipment in support of technology-related courses to include the placements of students for work experience, this having resulted in permanent staff appointments. Mecmesin also works with local schools to encourage young people to explore a potential future engineering career.
OTHER ARTICLES IN THIS SECTION