Multi-process welders
16 May 2018
ESAB Welding & Cutting Products has unveiled its Rebel EMP 255ic and Rebel EMP 320ic multi-process welders for MIG/MAG, DC MMA and TIG welding. Both units weigh 31.4kg and use 400V ±10% 3-phase supply voltage.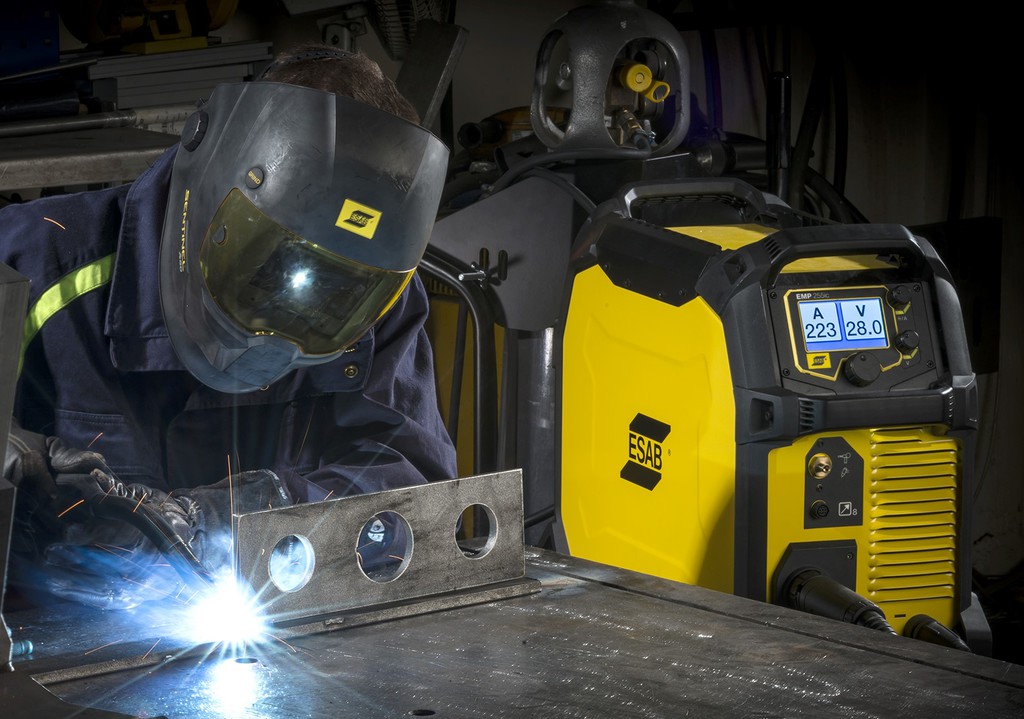 Rebel EMP 320ic provides a rated output of 320A/30V at 40% duty cycle and maximum output of 350A/34V, making it capable of running both solid and flux cored wires in heavy industrial applications. Rebel EMP 255ic provides a rated output of 255A/26.8V at 40% duty cycle and maximum output of 300A/34V and is suitable for industrial applications requiring 1.0 to 1.2mm wires.
"These Rebels are the most industrial Rebels yet. Their strong output enables users to gain the productivity benefits of spray arc welding with a wide array of wires on mild steel, stainless steel and even aluminum," says Martin Freibergs, business product manager Industrial/Light Industrial Product Systems, ESAB. "With a four-wheel roll system and a top wire speed of 20.3m/min combined with great torque, they can ensure accurate and consistent feeding of wires of all diameters."
In addition to its efficient MIG/MAG capabilities, these multi-process Rebels also handle full MMA performance with electrodes up to 5mm diameter, as well as gas-cooled TIG applications with a dedicated gas valve for professional TIG welding using Lift TIG starts.
Freibergs says: "Rebel EMP 320ic offers fabricators a machine with true industrial performance for shop work and the power, portability and multi-process flexibility contractors need for structural steel erection."
Rebel EMP 255ic and Rebel EMP 320ic maintain the benefits of other Rebel EMP welders, including the colour TFT-LCD display.
"The multi-lingual user interface provides a graphical and intuitive way of selecting processes and setting parameters," adds Freibergs.
Also part of Rebel DNA is ESAB's sMIG ('smart MIG') technology for quick and easy results when short circuit MIG welding. The sMIG function monitors the operator's technique and continuously adapts to provide a stable arc and repeatable welds.
"You can actually hear sMIG fine tune the arc after a few seconds of welding, dialing in that perfect 'sizzling bacon' sound that signifies proper welding parameters," continues Freibergs. "This technology reduces downtime when changing parameters, helps train new operators and can improve consistency between welding stations."
Rebel design is compact with a small footprint, and the machine can hold both 200 and 300mm bobbins. Both units use the same tough case that allows users to bring the Rebel to the jobsite, manoeuvre it around a workshop using the customised two-wheeled trolley or keep it on the work bench, providing flexibility for shop and field work.
OTHER ARTICLES IN THIS SECTION