Home
>
Amazing Application – Amazing Performance!
Amazing Application – Amazing Performance!
24 September 2018
The Chicago Pneumatic CP9361 Air Scribe took on a huge task during the recent summer vacation. At a dinosaur 'Open Day' for Fossils Galore in Surrey the tool was set up on a bespoke portable preparation table behind a viewing screen.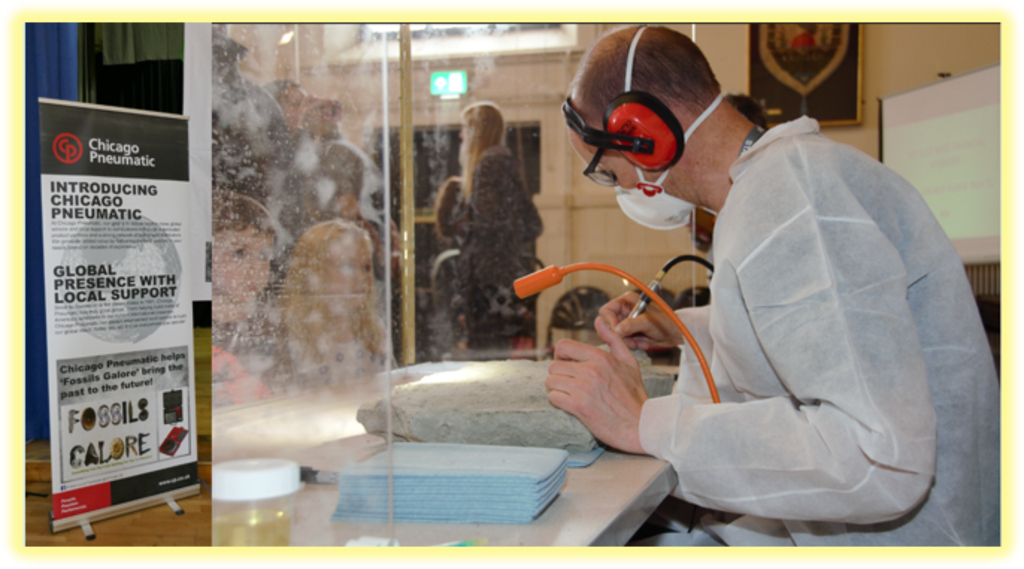 Part of the skeleton of INDIE -The Iguandon was in full view as the tool was used to gradually expose the bone from the hard clay rock it was encased in.
Make no mistake this finite process of exposing the bone from its surround is a vital part of the necessary preparation and the team of volunteers carrying out the job were specially trained in the use of the tool. Just one slip up and 132 million years of history can be damaged. Palaeontologist Jamie Jordan along with enthusiast and Museum Manager Sarah Moore decided to show their amazing discovery of 'Indie' The Iguanodon' at an Open day in Cranleigh Village Hall in Surrey as this was within three miles of the quarry where they made their big discovery. An Iguanodon typically weighed 3.4 tons and would be around 7 meters long.
This CP9361 Air Scribe has been Jamie's tool of choice for fossil preparation for over 14 years since he began his work in this specialist area. The tool was in constant use throughout the day and did not disappoint.
Jamie said 'We had over 773 visitors exceeding our expectations and the portable prep area with the CP9361 proved a great attraction and showed people how the skeleton is being exposed for future display'
RELATED ARTICLES
No related articles listed
OTHER ARTICLES IN THIS SECTION