AirUser 2016 / 2017

Latest Articles
1/6 (1 to 15 of 87)
Oil-free compressed air is a standard requirement for industries that need to comply with high standards of cleanliness and hygiene, but traditionally it has come at a price. BOGE says it has achieved a significant step forward in compressor technology that not only delivers truly oil-free compressed air, but also a 30% reduction in total cost of ownership (TCO). BOGE's Mark Whitmore reports

---
Stef Lievens, business line manager for compressor technique service operations at Atlas Copco Compressors UK and Ireland, looks at the history and application of internet connectivity and data science in the compressed air industry and examines how it may influence both the initial design of the equipment and the way it is monitored and managed in working environments

---
Instrument calibration is important both to determine the accuracy of the instrument and to ensure that its readings are consistent with other measurements. Matthew Harrison, UK sales manager of Beko Technologies, explains more

---
Annually, UK industry uses over 20TWh of electricity to compress air, equivalent to the output of four power stations and over 8.1 million tonnes of CO2 emissions. As a result, high-quality energy and performance at a cost-effective price continues to be a key consideration for businesses. Keith Findlay, compressed air audit manager at Gardner Denver, outlines the benefits of energy audits, discussing the improved efficiencies that they can help realise.

---
The last 12 months have seen huge changes in the political and economic landscape. In this report for AirUser, Vanda Jones, executive director of BCAS considers what has happened over the last year, shares her thoughts on what needs to happen moving forwards, and outlines the crucial role that a trade association plays in providing industry with a platform to voice its opinions

---
The compressed air industry has had an excellent record of minimising energy consumption through design and servicing, but now it is time for a step change as the EU commission pushes industry towards resource efficiency and the circular economy.  Marion Beaver, Technical Officer at BCAS takes a look at what it means moving forwards.

---
Those looking to invest in an air compressor often rely on zero hour data sheets verified by the Compressed Air and Gas Institute (CAGI)* to predict lifetime performance, as this is the only source of independently verified performance data on air compressors. However, Andy Jones, MD at Mattei, says efficiency levels change over the life cycle of a unit and whilst two compressors may have the same zero-hour performance,  the reality is that life cycle costs may vary considerably

---
Here Vanda Jones, executive director for the British Compressed Air Society, examines the role of the trade association in modern industry, particularly in the light of the ongoing Brexit negotiations and the positive influence such organisations can have on securing our industrial future

---
Training is a vital ingredient for modern businesses with a host of benefits, ranging from employee motivation and retention, to demonstrating competence to implementing safe working practices. Here's an overview of some of the latest courses available from the British Compressed Air Society (BCAS)

---
BCAS works directly on behalf of the compressed air and vacuum industry to advise on, shape and, at times, challenge the creation of EU and UK legislation, directives and standards. Here, the Society provides a round-up of some of the latest work that Pneurop – the European committee of manufactures of compressors, vacuum pumps and pneumatic tools – is undertaking

---
The correct installation and commissioning of compressed air piping is vital for an ongoing safe and efficient compressed air system.  Here Marion Beaver, technical officer for BCAS outlines best practice

---
Link

AirUser asked the British Compressed Air Society to answer some of the questions it is most frequently asked. Three of these are detailed below

---
Welcome to AirUser - Your independent guide to Air Powered Systems which this year celebrates its 20th birthday.

---
For owners and hirers of compressors and vacuum pumps, the operating costs are often as much of a concern as the initial outlay of the equipment. In fact, energy and maintenance account for 79% of the overall compressor cost compared to 21% initial investment. MANN+HUMMEL explains more

---
3D Print Bureau chooses Aluminium Pipework for its expanding compressed air needs...

---
1/6 (1 to 15 of 87)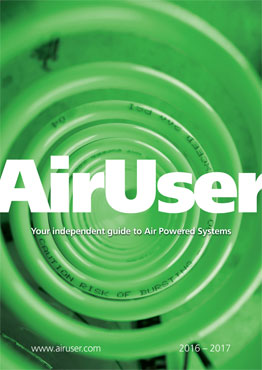 Welcome to AirUser - Your independent guide to Air Powered Systems which this year celebrates its 20th birthday.
We are grateful to all those who have provided content for this year's edition of AirUser and, in particular, we thank Vanda Jones at BCAS for all the articles she has contributed. We hope you find the guide interesting and that it will prove a useful reference tool.
To view the online, interactive version of AirUser, click here. We're already starting to plan our 21st issue of the guide, so if you have an idea for an interesting article or if there are any particular topics you would like us to include, please get in touch.
Val Kealey
Editor
AirUser
vkealey@western-bp.co.uk
Distributors By Area
Use the AirUser Distributor Index to locate manufacturers and distributors of compressed air equipment in you area.
Suppliers
Locate and contact suppliers via our comprehensive Suppliers Directory.
2017 Media Pack
To obtain a copy of the IPE Media Pack, please complete the Media Pack Form.