Home
>
Hyster updates heavy trucks
Hyster updates heavy trucks
28 August 2018
Hyster Europe has launched an updated 8 to 16-tonne capacity lift truck.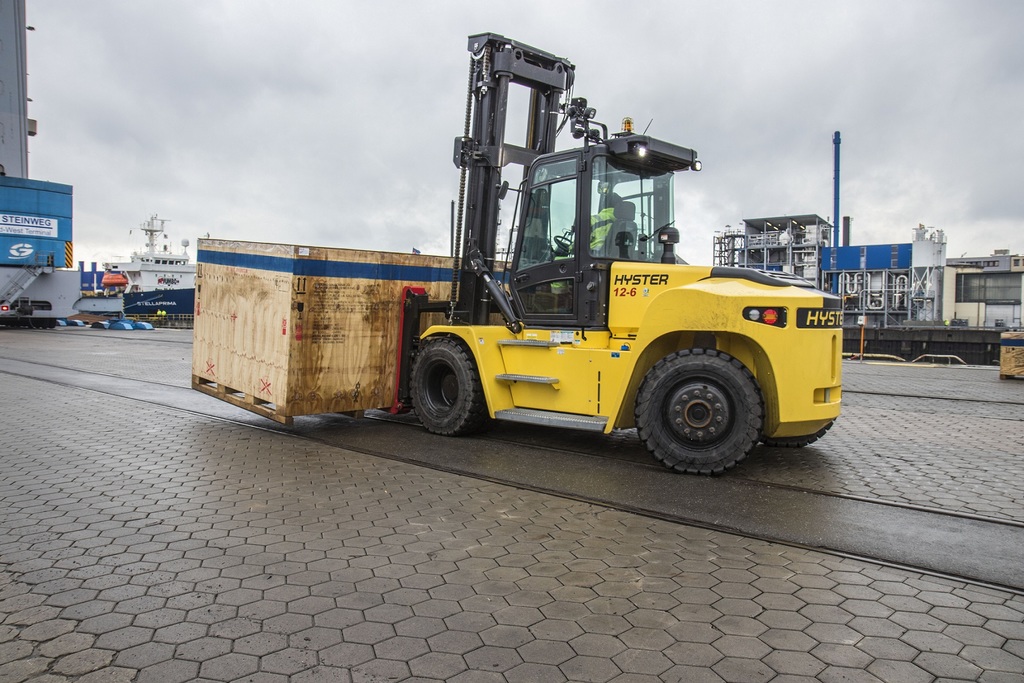 The Hyster H8-16XM range has a new mast and carriage giving fast attachment exchange as well as optimum visibility of the forks, the attachment, and the load.
The mast design is reported to offer added strength, and the intelligent design has increased the residual capacity on each truck by at least 400kg for the side shift pin type carriage. The new range of 2-stage masts, and extended range of pin or hook type carriages, are available on the H8-12XM-6, H13-16XM-6 and H10XM-12 models.
Chris van de Werdt, product strategy manager – big trucks, Hyster Europe says: "With a wide range of options and attachments, these trucks can be customised for the needs of any type of application, such as metal handling, construction materials or paper handling. There is now more space between mast channels giving enhanced visibility of the attachment and load."
The chains have also moved to the outside of the mast and the new carriages have slimline top bars with an intelligently located valve block.
"Now, operators can look through and over the carriage which helps provide ideal levels of visibility for ground level and lorry bed height manoeuvres," he says. The more open design results in less weight on the carriage and reduces "lost" load centres by getting the load closer to the truck.
For users that need to change attachments quickly, the dual function sideshift and fork positioning carriage (DFSSFP) with hook type mounting allows for quick disconnect giving greater flexibility. General stevedoring operations, for example, will find this truck easy to use when they need to switch from handling steel, to timber, to general cargo.
Rental companies will also benefit from this feature.
The closed mast height has been lowered and there is also the option to increase the forward tilt of the mast to 27 degrees for transport, instead of the standard 15 degrees tilt. This can further reduce the height of the mast by up to 310 mm for ease of transport. Furthermore, the 13-16-tonne models have a reduced width of 2.54m. With the entire range less than 2.55m wide, road transportation in Europe is simplified.
The trucks use Stage IV compliant Cummins engines. A low oil temperature of a maximum 88 degrees C reduces the risk of experiencing brittle components, like hoses and seals. As there are only 2 hydraulic hoses over the mast regardless of the number of functions required on the carriage, the risk of hydraulic leakage is also reduced. A 10,000 hours oil service interval, subject to oil sampling, is recommended.
Options include 4 mast mounted work lights, rather than 2 mounted on the fender, and a rear-view camera.
RELATED ARTICLES
No related articles listed
OTHER ARTICLES IN THIS SECTION