Connectors deigned to stand the heat
07 August 2018
HARTING has developed special connectors for high-temperature environments.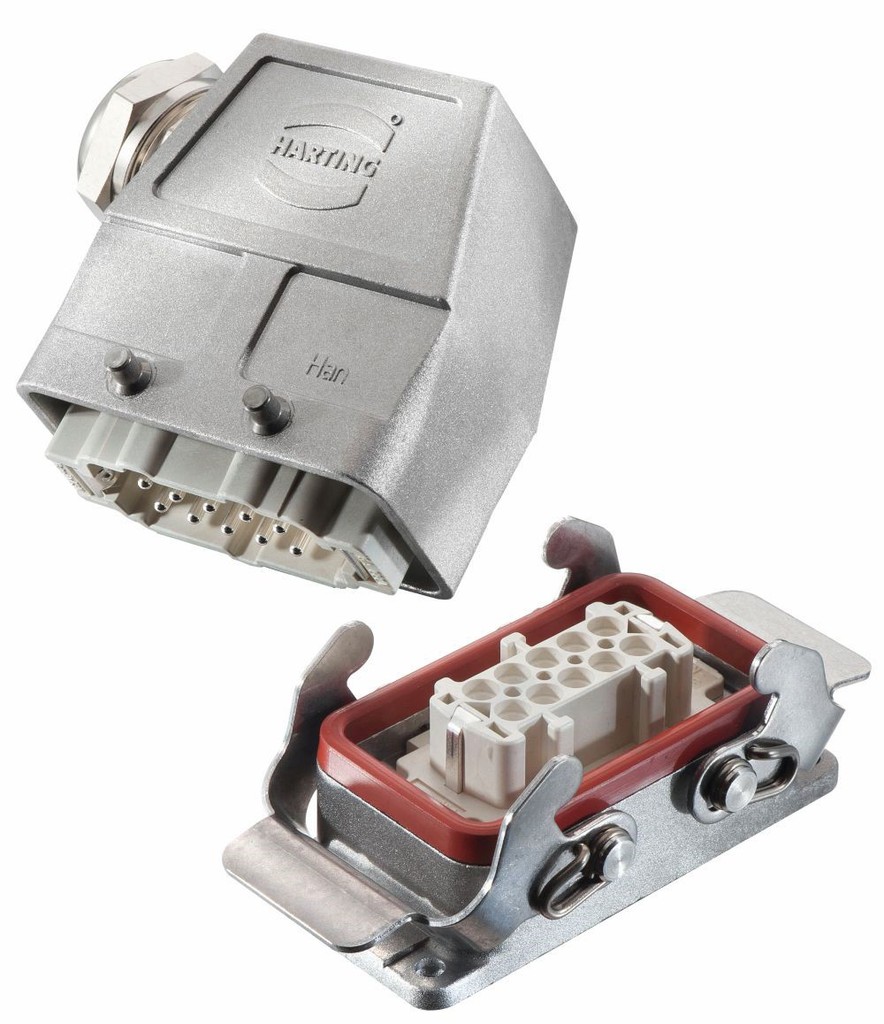 Many manufacturers are now investigating how they can best apply Industry 4.0 digitalisation processes to existing production plant environments in order to improve productivity levels and reduce costs. A consequence of this includes implementing a more modular approach to production platforms. This can involve either the application of new modular machines into a production line or the retrofitting of existing installed equipment to support a more modular and decentralised interconnected control system solution.
This strategy can now be followed in some of the harshest environmental plant conditions, such as those where equipment might be sited in areas with high operating temperatures. In the past, limitations in the operating performance of a connector have often meant that equipment has had to be hard-wired in such situations. HARTING's new Han High Temp range of connectors offers a solution. The company says reduced wiring complexity means that such an installation can be optimised and maintenance costs reduced.
Typical end-user applications include support for modular production cells within metal production foundries and rolling mills, including integrated electrical heating control feeds to die-cast tools and electric furnaces which may be applied in various high-temperature material processing areas. In addition, HARTING says they can extend the service maintenance intervals of integrated removable mould tools within modularly designed plastics injection moulding machines for the latest high-temperature materials, resulting in reduced line downtime.
Similar opportunities may be found in tyre manufacturing and chemical processing plant environments.
For example, bulkhead-side connector seals must not melt or adhere to other integrated component parts over the full operating temperature range. Consequently, HARTING has opted for a non-stick coated high-temperature-resistant rubber version, which avoids bonding between the hood and housing even if they are left mated for a number of years.
Some of the hood and housing coatings and lacquers available on the market are not suitable for long-term use at high temperatures as they can cause melting which can, in turn, lead to mated parts sticking together. Thanks to the application of a special surface treatment of the aluminium die-cast hoods and housings, HARTING has been able to dispense with any potentially detrimental additional protective coating finish.
The insulating body and contacts must both withstand the high ambient conditions of the location and the additional heat generated inside the housing when under mated load. HARTING has selected high-temperature-resistant copper alloy contacts that maintain constant electrical properties when heated. In addition, high-temperature LCP plastic insulators ensure long service life.
HARTING says that, as a result of these features, its Han High Temp connectors are able to permanently withstand operating ambient conditions of 200°C, provide extended operating lifetimes and ensure reduced line downtime compared to competitor solutions.
OTHER ARTICLES IN THIS SECTION