Advanced robotic capabilities added
25 January 2013
Guyson International has installed several new advanced robotic capabilities at its Skipton demonstration and engineering CAD/CAM design facility to assist customers with their process evaluation and precision blast s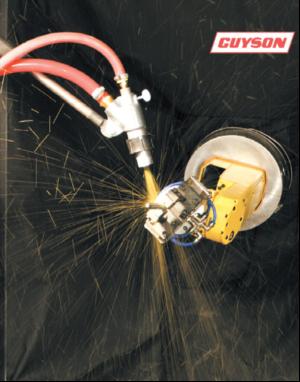 Guyson International has installed several new advanced robotic capabilities at its Skipton demonstration and engineering CAD/CAM design facility to assist customers with their process evaluation and precision blast simulation.

With this fully integrated working robotic cell adjacent to the manufacturing area of the factory, Guyson is able to demonstrate advanced blast nozzle manipulation techniques and the cost saving and efficiency benefits customers will achieve.

With the introduction of industry proven CAD/CAM software technology, Guyson's engineers can take a CAD STP (Step) file of the proposed component that requires precision blast finishing or peening and produce accurate 3D simulations of the blast treatment on the component, showing actual blast cone coverage of all critical areas. The software allows off-line programs to be developed in hours and allows the optimum impact angles and stand off distances to be guaranteed.
OTHER ARTICLES IN THIS SECTION