Smaller fuel conditioning unit
25 January 2013
Magnatech has launched a range of fuel conditioning units suitable for small commercial and domestic use. It is reported that Magnatech's technology has been verified under the EU's TRITECH ETV scheme as reducing fuel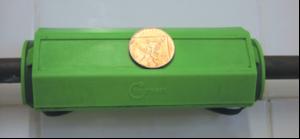 Magnatech has launched a range of fuel conditioning units suitable for small commercial and domestic use.

It is reported that Magnatech's technology has been verified under the EU's TRITECH ETV scheme as reducing fuel consumption on hydrocarbon burning boilers by at least 6%. The new, smaller scale product is a simple self-fit device that does not require any tools for installation, which takes a couple of minutes.

While one unit will be sufficient for a typical boiler found in a 5 bedroomed house, smaller offices may need two units depending on boiler output.
OTHER ARTICLES IN THIS SECTION