Lighting the way to energy savings
25 January 2013
About 70% of commercial installations in the UK still use inefficient fluorescent tubes, but with savings to be made by retrofitting an efficient lighting scheme, there is no reason not to make the switch.Dave Ellis, natio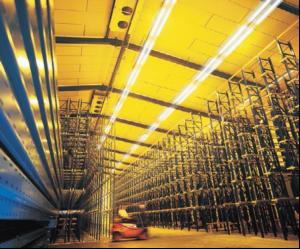 About 70% of commercial installations in the UK still use inefficient fluorescent tubes, but with savings to be made by retrofitting an efficient lighting scheme, there is no reason not to make the switch.Dave Ellis, national sales manager - specification at Osram, outlines some of the options

An efficient lighting scheme tailored toward the specific activity taking place in an industrial workplace improves quality, productivity and safety.

Today, solutions are available which create the perfect lighting ambience while minimising costs. This is due to the lower energy consumption of these lamps and their longer lifetime which leads to reduced maintenance costs.

A crucial factor to consider in selecting the lighting scheme for a building is the task to be performed within it. In a factory that manufactures, assembles and prepares goods, productive lighting that meets certain criteria should be installed.

Lamps should provide high luminance and optimum directional lighting to improve productivity, reduce error rates and cut the risk of accidents. Also, uniform illumination and appropriate positioning of luminaires prevents reflected glare from the surfaces of workstations and machinery which helps avoid premature fatigue among workers.

The colour temperature of a lamp is as important as its positioning. Lumilux Skywhite lamps, for example, have a light colour of 880 that offer high levels of contrast for reduced eye fatigue and lower error rates, particularly for employees on shift work.

Special considerations need to be made in certain environments. In factories where food is packaged, fluorescent tubes such as Osram's Lumilux Split Control T8 are suitable. These feature a plastic coating that retains splinters if the lamp is broken. In some cases it is also important to use special explosion-proof luminaires. Luminaires with enclosed housings and glass covers are easy to clean, so can be used in environments with high levels of dirt and contamination.

Ensuring the high quality of products is key to the success of any manufacturer and light plays a crucial role in identifying if products are up to scratch. Lamps with high luminance and optimum natural colour rendering properties are essential for illuminating quality assurance testing areas so that faults and discrepancies can be quickly and reliably detected.

Large luminaires with opaque covers and dimmable T5 fluorescent lamps provide glare-free illumination for surface inspections. The inspection of rough and structured surfaces calls for adequate shading and requires a light that can be adjusted to give light in different directions. This can be achieved with innovative LED modules or energy efficient halogen reflector lamps.

Warehouses with high ceilings are often without natural daylight. For work to be effective and efficient it must be possible to identify the shapes and colours of various products, packaging, labelling easily and reliably. In addition, ceiling luminaires have to meet strict anti-glare requirements and people working in these areas often have to look upwards.

Narrow-angle strip lighting solutions such as T5 fluorescent lamps connected to electronic control gear (ECG) are suitable for illuminating shelving areas, particularly as these lamps can handle on/off switching. For heights of 5m or more, glare-free prismatic reflector luminaires fitted with high output compact fluorescent lamps or high-intensity discharge lamps offer a solution.

In areas that are difficult to access, it is advisable to install lamps that benefit from a long lifetime as you will not have to change the lamp very frequently and this leads to reduced maintenance costs. Lamps such as Osram's Lumilux XXT and XT T8 fluorescent tubes have service lives of up to 75,000 and 42,000h respectively when operated on ECG.

The criteria for good lighting conditions in the industrial environment are defined in various standards and directives. These include adequate luminance, absence of glare, good colour rendering, appropriate light colour, and uniformity of light. In addition, lamps used should be as efficient as possible to reap savings for the user.With the latest industrial lighting solutions, you can meet the criteria for industrial lighting schemes while benefitting from reduced maintenance costs and efficient lighting conditions which optimise employee performance.
MORE FROM THIS COMPANY
No related articles listed
OTHER ARTICLES IN THIS SECTION