Offering 20 years life expectancy
25 January 2013
Pracht luminaires from Sill Lighting are made from materials which are impact-resistant and resistant to oil, alkaline and chemicals. Many fluorescent luminaire options are available and the Pracht range is designed f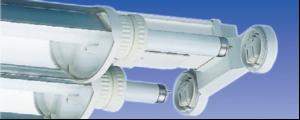 Pracht luminaires from Sill Lighting are made from materials which are impact-resistant and resistant to oil, alkaline and chemicals.

Many fluorescent luminaire options are available and the Pracht range is designed for high lighting efficiency, low maintenance and life expectancy of 20 years. Luminaires have just two 45mm 'O' rings, providing efficient sealing, and lamp holder contacts are silver-plated. Reflectors are enclosed, with a choice of diffuser materials to suit different applications.

Luminaires can be mounted with one hand, and the fixing clip system is designed for one person operation.
OTHER ARTICLES IN THIS SECTION