Brighter brewery
25 January 2013
Chalmor is helping Everards Brewery reduce its carbon footprint and save around £15,000 per annum on lighting costs at its Leicester facility. The project involved replacing lighting and introducing controls to minimi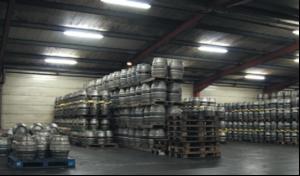 Chalmor is helping Everards Brewery reduce its carbon footprint and save around £15,000 per annum on lighting costs at its Leicester facility.

The project involved replacing lighting and introducing controls to minimise energy wastage.

In warehouse and cellar areas Chalmor's Brilliance 3 x 54W T5 fluorescent fittings have been installed on a point-for-point basis, while in the garage multi-wattage Brilliance fittings have been used, each fitted with 2 x 28W and 1 x 54W lamps. In the loading dock the Chalmor design has used Resilience 2 x 35W IP65 T5 fittings.

Resilience fittings in the loading dock are zoned into three rows, each controlled separately through an AutoLux 6-channel lighting controller. This enables the lighting to be switched off row by row, in relation to the penetration of natural daylight, with the row closest to the outside switched off first. Timer control is also provided to ensure lighting is not on when not needed.
OTHER ARTICLES IN THIS SECTION