Efficient inspection
25 January 2013
The new energy-efficient RING LED light source and magnifier from Waldmann Lighting can be used for precise examination purposes in applications such as measuring, testing and QC in laboratories, production and assembly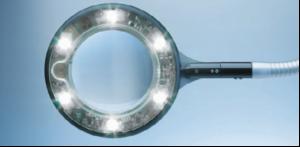 The new energy-efficient RING LED light source and magnifier from Waldmann Lighting can be used for precise examination purposes in applications such as measuring, testing and QC in laboratories, production and assembly areas.

Equipped with six LED light sources in a luminaire head measuring just 12mm high and 122mm in diameter, the RING LED is said to provide four times more light per watt of power than compact fluorescent, reducing energy consumption by 75% without compromising on light levels.

It combines a compact design with a scratch-resistant 70mm diameter Eschenbach magnifier lens offering magnification of 3.1 distortion-free dioptres.
OTHER ARTICLES IN THIS SECTION