Screed provides flawless solution
25 January 2013
Worn concrete floors look unsightly and can cause damage to goods being transported on forklifts.While replacement of the entire floor may be one option, Chris Betterley of Tremco illbruck explains that there are other sol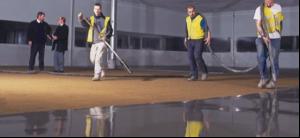 Worn concrete floors look unsightly and can cause damage to goods being transported on forklifts.While replacement of the entire floor may be one option, Chris Betterley of Tremco illbruck explains that there are other solutions

Industrial floors can look jaded after many years use, with uneven areas, potholes, damaged areas and a general dusty appearance. Bad concrete can cause goods to be damaged during transit on forklift vehicles and dust contamination can affect stock. In the modern business environment, inspections by customers to a supplier's facilities is not unusual and a poor quality concrete floor can be unsightly and project the wrong image.

Many property owners and tenants may consider digging out the concrete and relaying a new floor. This can prove costly and disruptive; many think that they have to close down for a month or just live with localised repairs.

There are a number of options available in such cases: Industrial grade pumpable floor screeds are cement based levelling compounds which may be laid at between 5 and 20mm thickness. These products accept full forklift traffic and are suitable for warehouse or dry industrial processes.

The process is simple. Firstly the floor is prepared using vacuum shotblasting to remove weak materials and open the pores of the concrete. The floor is them primed and the screed is applied by use of a suitable pump. The resulting surface has the same compressive strength as concrete but higher tensile and flexural strengths. Although such screeds may be left bare, many property owners/tenants choose to have the floor coated with an epoxy sealer to enhance the appearance and provide an easily cleaned surface.

For areas where the floor encounters water, milk, alcohol and other liquids then polymer screed or polyurethane screeds may be applied. A polymer screed includes a special liquid additive for mixing with sand, cement and granite which is typically applied as a 10mm thick overlay which can even be pigmented. This material withstands constant exposure to water, is steam cleanable and extremely strong, having almost double the strength of a standard concrete.

A polyurethane screed will do all of the above but is for areas, particularly manufacturing, where chemical exposure is encountered. The 9mm thick, chemical resistant, slip-resistant surface is steam cleanable and provides a high degree of durability.
MORE FROM THIS COMPANY
No related articles listed
OTHER ARTICLES IN THIS SECTION