Aluminium profiles used for Office Cube
25 January 2013
To many people,MiniTec's Profile System is only an assortment of extruded aluminium profiles and interconnecting components, but to the professional designer, the range represents the building blocks for fast, straight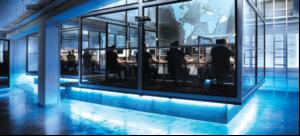 To many people,MiniTec's Profile System is only an assortment of extruded aluminium profiles and interconnecting components, but to the professional designer, the range represents the building blocks for fast, straightforward construction of structures with almost endless possibilities.

Machine frames, guards, workstations, parts handling and conveying system are just some of the applications that can be found in the manufacturing environment; those in architectural engineering see a different scope and this is borne out with the MiniTec Office Cube.

Combining MiniTec's Profile System in attractive 2.5m3 work area modules, with glass or panelled walls, sliding doors, power supply, carpets, desks, and cabinet storage, the Office Cube provides a simple yet effective office solution.

The design can accommodate single cubes for individual workspaces or combined cubes for multiuser environments, including do available to allow free movement of the Office Cube.

The standard clear anodised profile may be replaced with a colour finish and the design includes a noise insulating roof with automatic opening for ventilation. The Profile System range allows customisation for requirements such as motorised desk height adjustment, computer racking systems for server rooms or under floor lighting.

Hard copy/PDF catalogues are available. An e-catalogue with webbased iCAD interactive software lets customers view and download 2D or 3D CAD files for each component. A design service is offered; alternatively, the MiniTec CADmenu software for AutoCAD and around 50 other CAD systems is available free of charge.
OTHER ARTICLES IN THIS SECTION