Crate solution
25 January 2013
With growing demand for bottling and distribution services from global drinks manufacturers,Marston's in Burton on Trent has invested in additional storage facilities to protect thousands of crates being stored for desp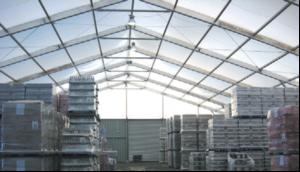 With growing demand for bottling and distribution services from global drinks manufacturers,Marston's in Burton on Trent has invested in additional storage facilities to protect thousands of crates being stored for despatch and is seeing improved production efficiencies as a result.

A 1500m2 building supplied by Spaciotempo, a provider of semipermanent buildings, has been erected next to the production line.

With a roof height of 6m, every bit of the floor-to-ceiling racking is used.

Spaciotempo was able to source a particular colour cladding to help satisfy local council concerns.
OTHER ARTICLES IN THIS SECTION