Versatility from VMC
25 January 2013
Five years after setting up a mould tool making business Dave Bowyer and Steve Riddle took delivery of a ProtoTRAK turret mill, the first of several CNC/manual mills and lathes from XYZ Machine Tools. Sterling Product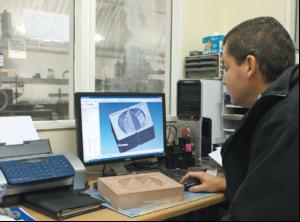 Five years after setting up a mould tool making business Dave Bowyer and Steve Riddle took delivery of a ProtoTRAK turret mill, the first of several CNC/manual mills and lathes from XYZ Machine Tools. Sterling Products' latest investment is an XYZ 15kW (20hp) 8000rev/min full-CNC 1010 VMC with Siemens 810D ShopMill control.

Prototype moulds machined from model resin are used to produce sample packaging in-house, which is sent to the customer for approval. The process includes ensuring that vacuum formed food containers, for example, when stacked prior to use can easily be separated, and transit trials to check that containers and their contents can be stacked securely and transported safely. Once a design has been finalised, a production mould can then be machined in aluminium.

Steve Riddle explains: "Having a machine with the capacity of the 1010 VMC allows us to load, say, a dozen workpieces on its 1200 by 450mm table, download the required programs and then run the machine unattended overnight and at weekends." The VMC's 24-station toolchanger has a 2.5s tool change time and has extra wide hardened and ground box slideways for rigidity and vibration absorption. X,Y and Z travels are 1010, 504 and 540mm respectively, with rapid feed rates of 24m/min on all three axes.
OTHER ARTICLES IN THIS SECTION