Spiral welder unveiled
25 January 2013
Dr Robert John, director of The Welding Institute, Cambridge, recently officiated at the launch of Rewinds & J Windsor's new £100,000 purpose-built spiral welder for the reclamation of shafts and other components. Th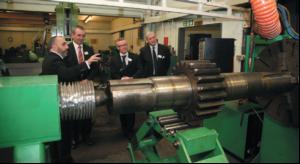 Dr Robert John, director of The Welding Institute, Cambridge, recently officiated at the launch of Rewinds & J Windsor's new £100,000 purpose-built spiral welder for the reclamation of shafts and other components.

The specialist machine was conceived and designed from scratch by engineering manager Mark Lavelle, who believed that there was no machine currently on the market that could meet his specific needs.

So, working with the manufacturer, he ensured his ideas became reality.

The spiral welder has a capacity for work pieces up to 6000mm long by 1600mm diameter, making it one of the largest in the UK.

This investment heralds further expansion for the company in a region where many traditional engineering companies have closed.

RJW has DNV accreditation for welding processes and ASME qualification for spiral welding.
OTHER ARTICLES IN THIS SECTION