Enhancements to energy chain system for robots
25 January 2013
Six new product lines have been added by igus to its Triflex R system of 6-axis robot energy chains. The multi-axial energy supply system, developed for robotic applications in harsh industrial environments, now comprise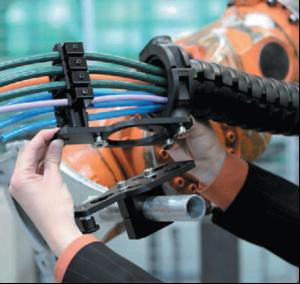 Six new product lines have been added by igus to its Triflex R system of 6-axis robot energy chains. The multi-axial energy supply system, developed for robotic applications in harsh industrial environments, now comprises in excess of 200 components.

A quick-change kit allows preharnessed robot energy chains to be changed simply by hand in seconds, while a rapid locking protector protects the chain at contact points where strong stressing occurs.

Complementing the Triflex R family, the Triflex R 125 is the largest 3Dmoving robot energy chain from igus.

With a 135mm external diameter, it has sufficient space for large services, such as hydraulic hoses and air pipes.
OTHER ARTICLES IN THIS SECTION