Manages change and charge
25 January 2013
An advanced battery management system that manages change and charge operations for warehouse truck batteries has been installed by Ventura Network Distribution at its massive distribution centre at Wath on Dearne. It is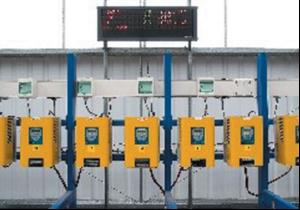 An advanced battery management system that manages change and charge operations for warehouse truck batteries has been installed by Ventura Network Distribution at its massive distribution centre at Wath on Dearne. It is designed to optimise performance of Ventura's warehouse truck fleet over a 5- year contract, minimising energy consumption and providing flexibility.

The fleet includes powered pallet trucks, counter-balance trucks, reach trucks and VNA trucks supplied by Crown. The lift truck supplier worked with Ventura and EnerSys to agree the final specification for the battery management system.

Separate charge and change areas are sited close to where specific types of truck operate.

The battery area for 40 order picking trucks, for example, is on the mezzanine of the picking and order assembly warehouse.

EnerSys supplied 80 Perfect Plus batteries which offer extended work cycles between charges for the order pickers. Charging is achieved using Powertech high frequency chargers which are said to be up to 20% more efficient than traditional 50Hz units.

Powertech automatically detects the battery's level of discharge and supplies only the amount of power needed to restore full charge.

Less power is required to charge a battery with significant savings in electricity costs.

At any time 40 batteries are being charged at a bank of 42 charging stations. A large overhead screen indicates the position and identity of the next available unit, ensuring batteries are allocated in strict rotation.
OTHER ARTICLES IN THIS SECTION