Sizes expanded
25 January 2013
The latest KAYDON thin-section catalogue from R.A. Rodriguez introduces new products and sizes to extend design flexibility. Among the additions are an 8mm sealed metric REALI-SLIM bearing range and 28 new sizes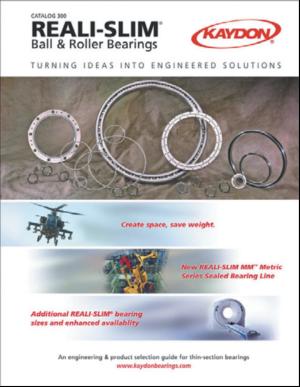 The latest KAYDON thin-section catalogue from R.A.

Rodriguez introduces new products and sizes to extend design flexibility. Among the additions are an 8mm sealed metric REALI-SLIM bearing range and 28 new sizes in the radial contact and four point contact series. This now produces a choice of bore sizes from 25 to 170mm.

The KAYDON JG series of sealed REALI-SLIM bearings has also been expanded by 12 sizes. Bores now range from 7 to 40 inches. In addition, the company has increased the number of bearings available from stock.

The catalogue is also available as a download from www.rarodriguez.co.uk.
OTHER ARTICLES IN THIS SECTION