Royal opening and 20,000 visitors
25 January 2013
Owned and organised by the Manufacturing Technologies Association (MTA),MACH is known as the UK's premier manufacturing technologies event.The 2010 show was no exception with 446 exhibitors displaying their products and s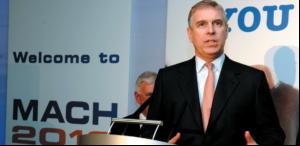 Owned and organised by the Manufacturing Technologies Association (MTA),MACH is known as the UK's premier manufacturing technologies event.The 2010 show was no exception with 446 exhibitors displaying their products and services to 20,171 visitors

MACH2010, held at the NEC Birmingham from 7 to 11 June covered over 18,300m2 of space and was deemed a great success by the organisers, exhibitors and visitors.

"The organising team were delighted with MACH2010 - the exhibitors put a great deal of effort into their stands, and the halls looked great. To pass the 20,000 visitor mark after such a tough two-years was terrific; we were elated," said Graham Shearsmith, MACH exhibition manager for the MTA.

"More importantly", Shearsmith continued, "reaction from the exhibitors was very positive regarding the quality of the visitors, and comments in from visitors focussed on how the show was so innovative and engaging - this feedback is supported through some bumper sales made by exhibiting companies." As well as hosting tens of thousands of visitors; MACH2010 welcomed the Duke of York (the UK Special Representative for International Trade and Investment) who officially opened the show, and the Secretary of State for Business, Innovation and Skills, Vince Cable MP, plus his deputy,Mark Prisk MP, who together took the time to join industry representatives for tours and a roundtable discussion.

Paul O'Donnell, head of external affairs at the MTA said, "We were very pleased to welcome and engage with such prestigious guests at MACH2010. The Show really demonstrated the importance of manufacturing to Government as they attempt to rebalance the economy and move the economy into growth. " One area the politicians were notably impressed with was the new Education & Training Zone. Launched in 2010, the Zone was a major success at the show with over 1500 students visiting from schools and colleges across the country.With high profile exhibitors such as the Bloodhound SSC and the AMRC MANTRA truck, students had the opportunity to learn what a career in manufacturing could hold. Seminar speakers, including Richard Noble MBE, the former world land-speed record holder, presented to packed seminar theatres, encouraging and inspiring young people to join the industry.

MACH played host to an international trade mission arranged by the MTA in conjunction with UKTI. The purpose of the mission was to directly expose decision makers from Russia, China and India to senior managers of UK-based manufacturing companies and to introduce UK manufacturing technology and the products UK industry has to offer. Over 135 one-toone meetings were held providing excellent leads both for international delegates and the UK based companies.

Everyone knew that market conditions were very different from the 2008 show, but how this would translate into this 98-yearold show was hard to predict.With aisles full of upbeat visitors and exhibitors reporting million pound deals, MACH delivered over and above what was expected.

The organisers are now planning the centenary show in 2012!
OTHER ARTICLES IN THIS SECTION