Battery bank
25 January 2013
Co-operative Food Retail Logistics called on EnerSys to help optimise space at its new distribution centre in County Durham, by minimising the area required for charging warehouse truck batteries. The solution was to bu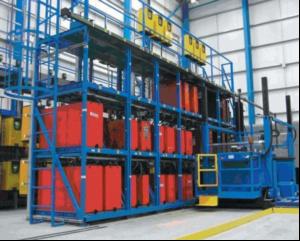 Co-operative Food Retail Logistics called on EnerSys to help optimise space at its new distribution centre in County Durham, by minimising the area required for charging warehouse truck batteries. The solution was to build a three-tier battery bank - with potential to go even higher - served by an electric-powered changing cart, believed to be the first of its type in the EU to work without hydraulics.

The innovative installation forms part of an advanced battery management system to meet Co-operative Food Retails Logistics' key objectives of best practice and sustainability.

Sophisticated charging and allocation procedures, as well as remote diagnostic facilities, ensure optimum performance over an extensive projected working life for the batteries and warehouse trucks.
OTHER ARTICLES IN THIS SECTION