Making connections worldwide
25 January 2013
A flex-resistant cable expert, igus offers Chainflex CF5 control cables and CF6 shielded cable as a new standard with 600V rating according to UL. After a short transition period the bundled cables, which are suitable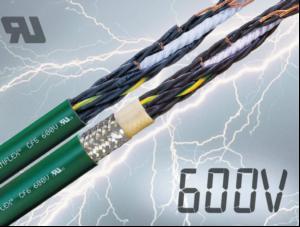 A flex-resistant cable expert, igus offers Chainflex CF5 control cables and CF6 shielded cable as a new standard with 600V rating according to UL. After a short transition period the bundled cables, which are suitable for world-wide machine export, will replace the igus CF5/CF6 predecessors rated to 300V.

The new control cables have an outer PVC jacket that is resistant to oil according to DIN EN, and are bundled in very short pitch lengths around a highly tensile-resistant core rope. The copper stranding has been optimised for highly dynamic use in energy chains. The gusset-filled extruded inner jacket of the shielded CF6 600V UL family and the gussetfilled extruded outer jacket of the non-shielded CF5 600V UL family, route the wires within the cable in the longitudinal direction, increasing durability.

Due to the specially designed braided shield with high optical coverage of 90%, high EMC protection is said to be guaranteed even after millions of double strokes.
OTHER ARTICLES IN THIS SECTION