On-demand agv charging
25 January 2013
Hawker XFC batteries from EnerSys are being used in a new project with automated guided vehicles (AGVs) manufactured by JBT Corporation for handling print reels and other loads at a commercial printing plant in Sheffi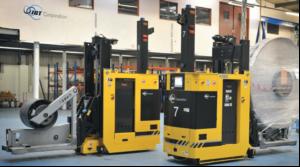 Hawker XFC batteries from EnerSys are being used in a new project with automated guided vehicles (AGVs) manufactured by JBT Corporation for handling print reels and other loads at a commercial printing plant in Sheffield. The Hawker XFC units were chosen because of their compact size/shape, heavy duty performance, and quick/on-demand charging, without the need for maintenance.

The XFC battery delivers maximum performance because it stores around 30% more charge than convention- al units, which extends the amount of time the AGV can operate before recharging. It can be charged from around 60% discharge to full capacity in under three hours when used with a Hawker Lifetech high frequency charger.

This combination of battery and charger also supports intermittent or opportunity charging with shorter but more frequent charge periods - and this does not adversely affect battery performance or lifetime.
OTHER ARTICLES IN THIS SECTION