Benchmark for dust free TVs
25 January 2013
Viridor, one of the UK's leading recycling companies, has solved a hazardous dust issue with the installation of three new AirBenches from WorkPoint. Viridor was using precision tools to cut apart old television scree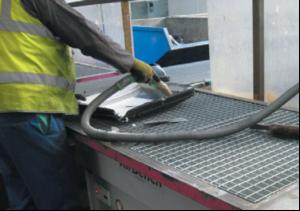 Viridor, one of the UK's leading recycling companies, has solved a hazardous dust issue with the installation of three new AirBenches from WorkPoint.

Viridor was using precision tools to cut apart old television screens, and identified an issue with dust clouding into the operator's breathing zone. The dust produced can include phosphorous, lead, and cadmium, leading to a high risk of dangerous exposure.

After on-site demonstration and trials, three AirBenches have been installed. The operators now cut each screen apart on dedicated AirBenches, providing a much cleaner and safer working environment.
OTHER ARTICLES IN THIS SECTION