Adhesive solution to vibration issues
25 January 2013
Bob Orme, a senior technology specialist at Henkel, manufacturer of Loctite brand products, explains why he believes adhesives may be the answer for maintenance engineers dealing with vibration issues Vibration has c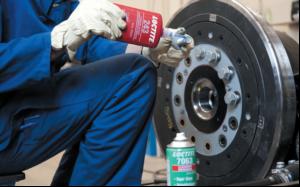 Bob Orme, a senior technology specialist at Henkel, manufacturer of Loctite brand products, explains why he believes adhesives may be the answer for maintenance engineers dealing with vibration issues

Vibration has caused bolts to work loose since threaded joints first came into existence.Many and varied methods of resolving the problem have been tried and a successful method has centred on the application of adhesives.

Back in 1953 Dr Vernon Krieble, pioneer of Loctite adhesives, discovered a way to lock and seal a threaded component. He was able to fulfil a need within industry - that of securing a screw in a carburettor in such a way that it could withstand severe vibration. Dr Krieble was very successful in his experiments - so much so that anaerobic adhesives were quickly established across a variety of industries as a trusted method of protecting parts against the potentially disastrous effects of vibration.

Why bolts? A bolt provides a means of locating components within an assembly.

It creates a clamp force.

It allows a joint to be readily disassembled and reused (unlike technologies such as welding and riveting).

When it comes to producing a vibration-proof assembly, the last two points are the relevant factors.

Creating tension As already stated, threaded fasteners provide a clamping force. After the tightening process of a threaded assembly has been concluded, the clamp load is retained by the pre-load of the bolt. Yet, the absence of a locking 'mechanism', can lead to the loosening of the fastener, when shock, alternating loads, thermal changes and vibration are introduced into the situation. And it is this loosening that results in the clamping load being compromised.

Loss of clamp load means there is a good chance that machinery will fail - with all the aggravation that any engineer would want to avoid.

A reliable solution can be found in the employment of engineering adhesives, as the following example illustrates.

Shocking results An independent assessor used a transverse shock test machine that enabled anaerobic threadlockers, spring washers, patch bolts, distorted lock nuts and nylon ring nuts to be compared under controlled conditions.

The test involved assembling a 3/8in, 16-grade bolt in the machine and then tightening it to a controlled tension. Once that was done, air hammers were activated and the bolt tension plotted against time.

As the accompanying graph reveals, the adhesive offered better protection against the bolt working loose than any of the other methods.

For example, it didn't take long before the tension in the bolt was lost when secured by the nylon ring nut.

However, the adhesive-treated assembly proved permanently secure and the tension in the bolt was maintained.

Addressing adhesives Engineering adhesives - especially, anaerobic products - provide an efficient vibration-proof system.

These single part adhesives cure in the absence of air when in contact with a metal. (Air is generally excluded from the joint when two mating surfaces - whether threaded or not - are brought together.) Further, these adhesives fill all the spaces between the threads of a bolt and a nut, sealing the assembly at the same time.

Adhesives offer an advanced vibration-proof system when it comes to locking joints. There is a cost-saving implication, too.

Through the use of adhesives, any fastener can become a locking fastener - without the need to maintain an inventory of varying sized locking aids to suit different applications.

I believe engineering adhesives present really good news for engineers who need to ensure they produce and maintain a vibrationproof assembly.
OTHER ARTICLES IN THIS SECTION