Greater depths
25 January 2013
The second of Dormer's annual 'D.Pack' product launches features a key addition to its solid carbide application drilling range. Spearheading the company's continued expansion into the high performance deep hole drill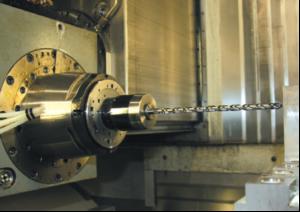 The second of Dormer's annual 'D.Pack' product launches features a key addition to its solid carbide application drilling range.

Spearheading the company's continued expansion into the high performance deep hole drilling market are three new tools capable of supporting 'one-hit' drilling to depths up to 30xØ. Branded Elect APP, the drills feature ACM (Advanced Chip Management) flute geometry that provides ample flute volume and encourages production of small, easily evacuated chips to minimise machine downtime.

Dormer's Super-Flow coating has been developed to optimise the performance capabilities of the Elect APP drills for deep holes. Benefits claimed include greater stability of cutting edges, wear resistance and increased productivity.
OTHER ARTICLES IN THIS SECTION