4-way additions
25 January 2013
Two diesel-powered Combilift 4-way forklifts are making light work of moving long loads at Asset International in Newport where high density polyethylene WEHOLITE pipes are made. One of the plastic pipes has an internal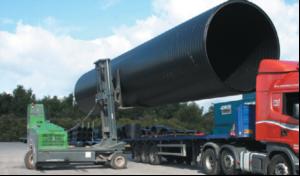 Two diesel-powered Combilift 4-way forklifts are making light work of moving long loads at Asset International in Newport where high density polyethylene WEHOLITE pipes are made. One of the plastic pipes has an internal diameter of 3.5m.

The company wanted a machine to handle loads of up to 9t and up to 25m in length. South Wales Industrial Equipment recommended Combilift.

A C5,000XL moves easily around the manufacturing area. Production supervisor, Ben Hillman, says: "The beauty of this truck is its ability to work as a front loader as well as to travel sideways." The second truck is a C14,000 14t capacity model capable of lifting loads of 9000kg at 1900mm load centres. It has 2440mm long forks, wedges fitted at the end of the decks, and a hydraulic fork spreader.

The new trucks have increased the speed at which the company can operate and also boosted safety.
OTHER ARTICLES IN THIS SECTION