German brewery toasts reduced energy costs
25 January 2013
Established by the Benedictine monks of Weihenstephan Abbey in 1040, the Weihenstephan brewery in Freising near Munich produces a wide range of premium quality wheat beers. Installation of a variable speed, oil-free com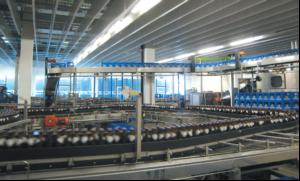 Established by the Benedictine monks of Weihenstephan Abbey in 1040, the Weihenstephan brewery in Freising near Munich produces a wide range of premium quality wheat beers. Installation of a variable speed, oil-free compressor from CompAir has helped to achieve a 30% reduction in its compressed air energy costs.

The brewery's compressed air system contained two CompAir oilfree piston compressors that supply 7.8 and 10m3 of compressed air per minute respectively. One of the compressors operated at full load and the other at half load, providing an economical solution when the brewery operates at full capacity, but not when production is reduced on night shifts and weekends.

In May 2010, the brewery opted for an oil-free, variable speed D22H RS compressor from CompAir.

Featuring PureAir technology, the compressor generates oil-free compressed air, making it suitable for the brewery's stringent hygiene requirements.

Water is used to lubricate, seal and cool the compression process, providing compression temperatures of just 60°C - contributing to low power consumption. Variable-speed drive technology matches compressor flow to demand. This means the unit produces the correct volume of air required by the application at all times.

Taking over the base load on Friday afternoon, the D22H RS ensures a constant pressure level at lower speeds during the weekend until the brew house returns to full operation on Sunday evening. This allows the brewery to cover all load situations while avoiding unnecessary idling costs when the demand for compressed air is low.

The new set-up has improved production reliability; if one of the two larger compressors fails, there is still enough compressed air to meet all requirements. CompAir is responsible for the continuous availability of the compressors. The simple construction of the DH unit, using fewer wear-prone parts, has resulted in lower maintenance time and associated costs for the brewery.

The D22H RS was integrated into the brewery's compressor control system, allowing operators to monitor the current demand for compressed air and review recent consumption trends.
OTHER ARTICLES IN THIS SECTION