Going beyond the repairable asset
25 January 2013
The value and economics of plant reliability on a macro basis is something that is being missed by production/maintenance seniors, site principals and financial personnel. Europe's leading MRO service and supply specialist ERIKS looks at where the gaps are and how addressing them can transform the bottom line

Maintenance is often seen as a necessary evil from a financial management point of view; maintaining manufacturing machinery, process equipment or warehousing equipment, incl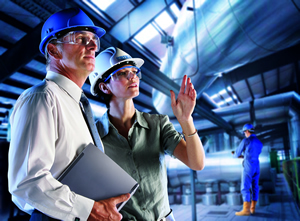 Click here for details of the 2011 Maintec Eriks Summit
The value and economics of plant reliability on a macro basis is something that is being missed by production/maintenance seniors, site principals and financial personnel. Europe's leading MRO service and supply specialist ERIKS looks at where the gaps are and how addressing them can transform the bottom line
Maintenance is often seen as a necessary evil from a financial management point of view; maintaining manufacturing machinery, process equipment or warehousing equipment, including building services is always a cost to add on to the bottom line. However, more sophisticated predictive maintenance techniques used in tandem with full-service MRO supply and management service offerings can result in substantial savings in downtime, increased output and reduced fixed costs.
'Looking beyond the repairable asset is something Europe's largest MRO supplier ERIKS is asking both financial and site management professionals to do.'
With over 30 specialist engineering sites across the UK, including large scale electromechanical repair workshops, research and design centres and its own manufacturing base to look after, ERIKS not only provides the most comprehensive spread of maintenance services it is also the UK's largest industrial MRO component stock and distribution company.
Individual repairs and replacements are still a vital part of ongoing maintenance at any industrial site, but, few senior management professionals have an intimate technical knowledge of physical plant machinery and how it is maintained, similarly most maintenance operations personnel do not have a complete picture of the corporate KPIs, overall production output and how production output affects profitability for an entire site, or even less likely; the combination of several sites across the country.
This lack of crossover knowledge has to be addressed in order to direct MRO investment and achieve the maximum potential efficiency of a plant. There are many software solutions on the market that can provide management information based on what is happening on the production floor or distribution warehouse; MES software, SCADA systems, and ERP systems between them can be used to bridge the information gap based on an ideal picture of plant operation.
What these systems cannot do however is to look at the entire plant and then break it down into its component parts and make suggestions where maintenance can be avoided, efficiency increased or reliability improved beyond that of the original plant capability. Most plants also now measure performance against real world figures, not what was promised by the original manufacturers or systems installers.
This is where plant-wide electromechanical and maintenance services can be applied to effect change in real-world circumstances. Expensive software systems will be very useful to track the improvements that have been made, once they have been made, or locate problems on a reactive basis. There still needs to be an experienced multi-disciplinary team of people in place to make pro-active changes and improvements in reliability of physical plant and equipment in order to make improvements in productivity and reduce bottom line costs.
ERIKS offers a range of services, from a simple suite of condition monitoring and predictive maintenance services; through to national integrated service contracts where ERIKS takes responsibility for the maintenance of an entire manufacturing base nationally. The preventative maintenance services on offer also include partnerships with leading component suppliers such as SKF bearings, for which ERIKS is the only Certified Maintenance Partner with full UK national coverage.
Preventative measures start with basic vibration monitoring, thermal imaging surveys and oil analysis and stretch through to specifying better quality or more efficient replacement components and consumables - through to very detailed site surveys and online maintenance service scheduling of every component on a site. ERIKS will also tidy-up engineering stores and replace entire repair stock with sale or return items, man the stores, carry out the repairs, and take responsibility for key performance indicators on a site.
The company's expertise covers the entire span of UK industry and commercial premises, Gary Price head of the Electromechanical Repair Service team comments on the culture change that is needed to improve UK manufacturing performance and take advantage of the services on offer,
"Reliability is one of the most undervalued aspects of the overall financial performance of any site. We have improved the profitability of huge manufacturing operations simply by fitting the correct seal to a critical piece of equipment, a couple of hundred pounds spent resulting in tens of thousands of pounds in increased profits."
"We have replaced the stores in Military and Aerospace sites removing hundreds of thousands of pounds worth of devaluing inventory from the company's cost base. ERIKS Integrated Solutions (IS) is responsible for the entire MRO supply chain management for several of the country's best known food and beverage brands, where we are able to deliver fixed cost reductions over a three and five year basis - providing total financial surety of maintenance operations."
All of these examples illustrate how looking beyond the individual repairable asset can make a huge difference to a company's performance. It is not something an on-site repair and maintenance team can be expected to deliver, neither is it something that a senior finance officer can be expected to know.
Using experienced suppliers with a breadth of knowledge; experience and resources can bridge the knowledge gap and benefit both parties by delivering real-world positive changes. Improvements that are tailored to the specific needs of an individual management team or the opportunities for improvement that are unique to that site; whether it is manufacturing rocket fuel or storing frozen food, the savings are there to be made.
OTHER ARTICLES IN THIS SECTION