Pump up efficiency
25 January 2013
The latest condition monitoring equipment and techniques can help prolong the operating life of water and wastewater pumps. Phil Burge of SKF, explains Vibration caused by the wear of components or the misalignment a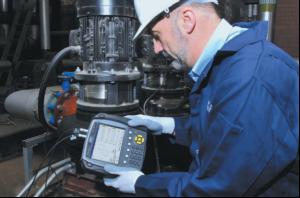 The latest condition monitoring equipment and techniques can help prolong the operating life of water and wastewater pumps. Phil Burge of SKF, explains

Vibration caused by the wear of components or the misalignment and balancing of rotating shafts is a common problem with water and wastewater pumps, leading to an increase in energy consumption, higher maintenance costs and, in extreme cases, to catastrophic failure.

Condition monitoring equipment, such as accelerometers, is widely used and has often proved to be the most effective method of detecting vibration and increasing temperatures. These devices can form a fundamental element of holistic predictive maintenance programmes, which can provide early warning of a change in operating conditions, allowing remedial action to be taken before any significant damage is done.

Driven by its increasing adoption as part of plant-wide management programmes, condition monitoring technology, including both vibration detection and thermal imaging devices, has developed steadily in recent years. The latest systems now offer greater speed, simplicity and sophistication of analysis, with extremely high levels of accuracy.Moreover, portable and handheld devices are now smaller, more powerful and feature far better displays than before, while providing wireless connectivity to networks for remote interrogation and control, providing a wealth of data that can be used for both short term maintenance planning and long term plant cost control.

The latest sensors and accelerometers used for vibration monitoring exploit piezoelectric and piezoceramic technology and provide a reliable method of measuring high and low frequencies, with low hysteresis characteristics and accuracy over a wide temperature range.

They can be packaged within compact stainless steel housings to protect against ingress of moisture, dust, oils and other contaminants.

Mounted in key locations on the equipment to be monitored, the sensors and accelerometers allow output data to be read periodically using sophisticated handheld data collection instruments, for immediate analysis or subsequent downloading to a PC, or being routed via switch boxes to a centralised or higher level system for continuous monitoring.

The latest handheld devices are also simplifying maintenance, ensuring that machinery continues to operate at optimum performance to minimise costs. For example, the easy-to-use and ergonomic family of SKF Microlog portable data collectors and analysers automatically collect vibration signals and static process variables, as well as bearing assessments, from a wide range of sources, including handheld and magnetically mounted accelerometers, permanently mounted vibration sensors or online monitoring systems. Temperature measurements can be collected with non-contact IR sensors or with a contact probe to check bearing temperatures for abnormal heat loads that could indicate lubrication problems.

The SKF Microlog Analyser AX, for example, can be customised to meet the needs of individual applications, allowing the time required for equipment monitoring rounds to be cut. Users can select from a range of application modules, creating a custom device.Modules can be added as needs develop, keeping ongoing costs down, and can include balancing, bump analysis, recorder, frequency response function, run up/coast down, and check to conformance.

This range of modules enables users to perform several advanced tasks with a single device, including impact tests, digital recording, modal analysis, transient phenomena analysis and quality inspections.

The device incorporates an 806 MHz Xscale processor to provide real time rate and display updates, which can be viewed clearly on the instrument's 6.4in VGA colour display. As with all SKF Microlog products, the Analyser AX features SKF Enveloped Acceleration (gE) technology to evaluate readings alongside established bearing vibration guidelines, while offering 4-channel non-route, 2-channel or simultaneous triaxial route analysis and 2-channel balancing. The IP-65 rated, dust and waterproof analysers are constructed to withstand demanding environmental conditions.

The latest field mounted, wireless condition monitoring measuring devices, such as the SKF Multilog WMx, have been developed to form one of the key components in advanced condition monitoring systems, collecting acceleration, velocity, displacement temperature and bearing condition data.

Typically, this is automatically uploaded for fast, simple data analysis in a condition monitoring software suite. Furthermore, they are suitable for monitoring hazardous, remote or hard-to-access areas as they do not rely on wires or cables.

Powerful software tools improve data collection and analysis, helping realise the benefits of the latest condition monitoring instruments. SKF's @ptitude platform, for example, enables users to view and analyse detailed information on the condition of the equipment, as well as communicating it throughout an operation. Users have access to online information and periodic results against which to compare the recorded data.

The automated process identifies the probability of specific faults within the machine before prescribing remedial action.

Once corrective work is complete, it is vital to continue to monitor conditions to identify areas for improvement in terms of machine performance, energy efficiency or output. This becomes a continuous process of machine optimisation using a database of statistics and readings gathered over time.
RELATED ARTICLES
No related articles listed
OTHER ARTICLES IN THIS SECTION