Home
>
Counting down to Maintec 2011
Counting down to Maintec 2011
25 January 2013
Products and services from a wide range of companies will be on display at easyFairs Maintec 2011. In addition, the two day ERIKS MAINTEC SUMMIT, endorsed by the Institute of Asset Management (IAM), and organised by IP&E, w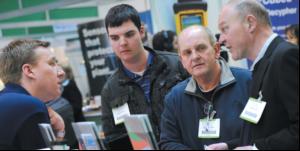 Products and services from a wide range of companies will be on display at easyFairs Maintec 2011. In addition, the two day ERIKS MAINTEC SUMMIT, endorsed by the Institute of Asset Management (IAM), and organised by IP&E, will feature some of the UK's foremost authorities on asset management and maintenance issues.Here, we provide a summary of the topics on offer

Scheduled for the 30th and 31st March 2011 at Birmingham's NEC, the Summit, sponsored by ERIKS will include papers and case studies from leading lights in the fields of 'lean' plant management, process management, health and safety and thermal technology.

David Gooda, principal consultant of The Woodhouse Partnership, will be chairing Day 1. Gooda has been closely involved with the IAM for many years. He was heavily involved in the IAM's PAS 55 Project, a Specification for the Optimised Management of Physical Infrastructure Assets, was joint leader of the IAM's first project to develop an Asset Management Competency framework and was leader of the IAM's work to develop the first methodology on how organisations can assess their compliance with PAS 55.

Chairing Day 2 will be Philip Floate, technical director of Grontmij, one of the largest engineering consultancies in Europe.

Floate has almost 40 years professional experience and has been involved in the development and evolution of asset management since before privatisation of the UK water industry in 1989.

Day 1 The first day will start with a keynote address from Tim Gadd, asset manager with NATS, the UK Air Traffic Control Provider. His presentation will be on 'Business Advantage Through Good Asset Care.' Gadd comments: "We are often used to looking at maintenance from a frontline point of view. This presentation will look at maintenance from the business perspective and what very senior management wants to see in place. There are more than just the cost advantages of getting it right, and also of failing to do so. These issues will be discussed and a case study of how we (NATS) implemented a change programme in its maintenance organisation, driven by a business need and succeeded in making a real sustainable benefit to the organisation." Following Gadd's opening speech, the second presentation of the morning will look at how maintenance thinking has evolved over time, the introduction of Reliability Centred Maintenance (RCM) and the lessons learned by earlier pioneers of the process.

The paper will be presented by Richard Kelly, managing director at EMS. He commented: "The presentation, titled 'Putting the Lean in Reliability Centred Maintenance (RCM)' will be looking at why RCM is so drastically different to traditional maintenance and what results can be expected, I'll also be discussing how Lean thinking has transformed the application of RCM and why the transfer of skills and ownership is key to sustainability." To date, Kelly has trained several hundred maintenance managers, engineers, maintainers and production team members in the theory and application of Lean RCM.

Through EMS, he has facilitated many successful site-based RCM implementation programmes in diverse industrial sectors.

The third presentation at the Summit on Day 1 comes from Idhammer Systems and Premier Foods.

Alan France, operations director at Idhammer Systems said: "For our presentation we will be presenting a joint paper called 'Process Improvement - Its Role within Asset Maintenance. This will show how Premier Foods & Idhammar Systems worked together to improve production performance in over 40 factories.

Graham Paterson, group manufacturing excellence manager at Premier Foods, who will be joining France to deliver the presentation, added: "Premier Foods launched, some time ago, a project to measure and improve the production process in all its factories. This paper will show the basics behind the OEE Attack Loop Process and how it impacted on our asset maintenance. The presentation will also show the decisions made, methods used and the progress attained." Rounding up Day 1's case study presentations will be Oarisk who will be talking 'Product Design and Maintenance - The Vital Balance.' Doug Marsh, managing director, explained: "Much of the performance and life cost of equipment is predetermined before an asset is purchased. The functional requirement, design specification, operational environment and operating regime all determine maintenance needs for the rest of an equipment's life. 'Product Design and Maintenance - The Vital Balance' will make the argument that the most effective way to drive down cost of ownership, including maintenance, while driving up performance, is to take a Life Cycle Asset Management perspective and for Maintenance People to get involved in the design process."

Day 2 The second day will start with a keynote address from Andrew Green, director of Life Cycle Costing and Strategic Asset Management at Faithful+Gould. His presentation will be discussing how 'Business CAN do better through the Implementation of Asset Maintenance.' Green will explain how to implement a standardised, simplified and sustainable maintenance model, that can be integrated into any FM operation.

He comments: "My presentation will demonstrate how making maintenance an investment, not an expense, can make a paradigm shift in attitudes from 'cost focus' to business focused maintenance." The second presentation on Day 2 will be presented by Neal Stone director of policy & research at the British Safety Council (pictured). Stone's presentation will be looking at 'People - An Asset to be Managed and Maintained.' He explained: "Comprehensive health and safety policies, sound management systems and the presence of competent and expert health and safety practitioners are vital but not enough by themselves.We have had law in place for many years requiring every worker to guard not only their own health and safety but others affected by their work activities. Quite simply it is not good enough for organisations to appoint a person to have responsibility for managing health and safety." Stone continued: "To meet the legal requirements concerning health and safety and to prevent workplace injury and ill health it is vital to have those essential behavioural elements - top level leadership, active workforce involvement, strong communications and a sense of common purpose.Without these components we will never achieve our goal of safe and healthy workplaces." The third presentation at the Summit on Day 2 comes from Laidler Associates Consulting Services. Paul Laidler, managing director at the firm, will be discussing 'The Impact of Recent Amendments to the Machinery Directive on the Maintenance Function.' Laidler explained: "The latest version of the Machinery Directive came into force in December 2009 and included a subtle change of focus towards looking at the lifecycle of a machine. Both the new Directive and the advance in available technologies have also brought about many changes to applicable standards.Many of these changes are not fully understood as their implications can affect the end user as much as the machine builder." And finally, rounding up Day 2, and indeed the Summit overall, will be David Manning-Orhen, CM business development manager at ERIKS. His presentations will be on 'A Risk Based Approach to the Frequency of Thermographic Survey's on Electrical Devices.

Manning-Orhen commented: "The easiest way to analyse heat and heat sources is by using an infrared camera. As a user of thermographic cameras for over 30 years now, we (ERIKS) are being asked more and more as 'experts' how often should customers be surveying their electrical plants. This presentation is borne out of the need to answer this question as best as possible." To book a place at the ERIKS MAINTEC SUMMIT and to take advantage of 'early bird' delegate prices, please call Lucy Daley on the number below or email her: lucy.daley@easyFairs.com.
RELATED ARTICLES
No related articles listed
OTHER ARTICLES IN THIS SECTION