Certified supplier
25 January 2013
GNB Industrial Power, a division of Exide Technologies, has been named a certified supplier by the Toyota Group for BT products, for its continuous efforts in serving major customers. The TMHE (Toyota Material Handli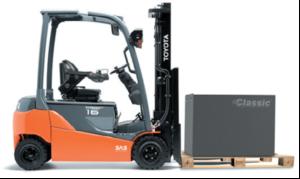 GNB Industrial Power, a division of Exide Technologies, has been named a certified supplier by the Toyota Group for BT products, for its continuous efforts in serving major customers.

The TMHE (Toyota Material Handling Europe) supplier certification program seeks to improve quality and on-time delivery; share technology; establish a long-term and stable relationship with a few suppliers; and reduce costs.

Being awarded certified supplier status illustrates GNB's performance and high quality products. This award will also be the basis for further successful cooperation between GNB and TMHE.

This recognition is linked to the earlier signed two-year contract with Toyota Material Handling Europe for the supply of batteries for materials handling vehicles.
RELATED ARTICLES
No related articles listed
OTHER ARTICLES IN THIS SECTION