Un-masking new eyewear
25 January 2013
Uvex has launched its superfit safety eyewear combined with its new Classic 2310 Cup version P3 and Classic 2210 Cup version P2 masks. The mask and specs combination are designed to fit and be worn together as the spect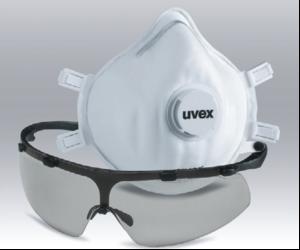 Uvex has launched its superfit safety eyewear combined with its new Classic 2310 Cup version P3 and Classic 2210 Cup version P2 masks. The mask and specs combination are designed to fit and be worn together as the spectacle makes for a dovetail fit between the two. The nose bridge fits inside the mask, but does not affect the sealing qualities.

The thinness of the superfit lens and reduced weight of the spectacle reduces the pressure and movement on the mask.

If either the mask or spectacle is not in the right position, the mask will fail an HSE mandatory face fit test, which has to be done for all employees who wear RPE incorporating tight-fitting facepieces.
OTHER ARTICLES IN THIS SECTION