Astrum cuts compressed air costs by 50%
25 January 2013
Two regulated-speed compressors from CompAir have helped steel components manufacturer, Astrum, to cut compressed air energy costs by more than half and boost productivity at its foundry in County Durham. Mike Hutchin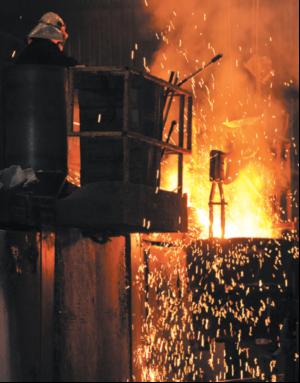 Two regulated-speed compressors from CompAir have helped steel components manufacturer, Astrum, to cut compressed air energy costs by more than half and boost productivity at its foundry in County Durham.

Mike Hutchinson, operations director at Astrum explains, "As part of our programme of improving the energy efficiency of our processes, we looked to replace existing compressors and approached CompAir distributor, Air Energy Management to assess our air requirements.

"Air Energy Management was able to demonstrate that by looking at the overall efficiency of the existing system, and making sure it is designed specifically for our needs, we could save a significant amount of money." To accelerate its investment plans, Astrum approached the Carbon Trust and was awarded an interest free loan through its Big Business Refit scheme.

Hutchinson adds: "The loan will pay for itself within four years through energy savings alone, and has provided a cost effective way for us to upgrade crucial equipment." Working alongside Astrum and CompAir, Air Energy Management developed a bespoke system to reduce the demand on compressed air at the foundry, and replaced old, large compressors with two more efficient, smaller CompAir units. The L75 RS and L160 RS compressors both have regulated-speed technology and are protected and monitored by a Delcos 3100 electronic control system.
OTHER ARTICLES IN THIS SECTION