Coating material
25 January 2013
Durathane is a coating material developed by Bryant Products. Initially applied to its range of pulleys, Durathane lagging is now available on the company's conveyor rollers. This option is now offered to UK customers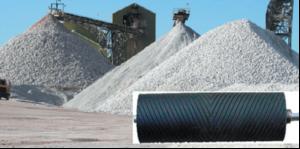 Durathane is a coating material developed by Bryant Products.

Initially applied to its range of pulleys, Durathane lagging is now available on the company's conveyor rollers. This option is now offered to UK customers via distributor, R. A.

Rodriguez. The polyurethane elastomer is 100% solid with no VOC content.

Available in two grades, Durathane is said to exceed the abrasion resistance of carboxilated/rubber and to exhibit reduced belt slippage. The company says that it is not prone to dye and particle transfer.

The Durathane elastomer application is CNC controlled and many profiles can be specified to suit the customer's need. As the coating is a form-following process, application does not involve a mould.
OTHER ARTICLES IN THIS SECTION