Clear when cured
25 January 2013
Available from Henkel, Loctite V5004 is a toughened, structural two-part acrylic adhesive that, when cured, is virtually transparent, making it suitable for applications requiring clear, invisible bond lines. It can f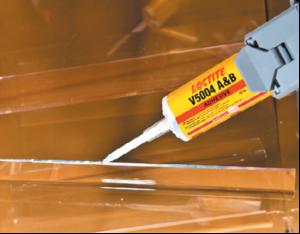 Available from Henkel, Loctite V5004 is a toughened, structural two-part acrylic adhesive that, when cured, is virtually transparent, making it suitable for applications requiring clear, invisible bond lines.

It can fill gaps up to 3mm and provides good adhesion to most structural thermoplastics, thermosets, FRP, stone, ceramics, steel and aluminium. The medium strength adhesive is also capable of bonding dissimilar materials.

The thixotropic formula means that it is non-drip and reaches handling strength in about 3min.

Packaging for Loctite V5004 includes a 50mL twin syringe with static mixer for controlled accurate mix ratio of the adhesive.
OTHER ARTICLES IN THIS SECTION