Lathe halves cycle time
25 January 2013
HiSpec Motorsport produces good quality, high performance braking products at prices that appeal to the general road user, the kit car enthusiast, the racer and the track day fan. With the diameter of the grey cast i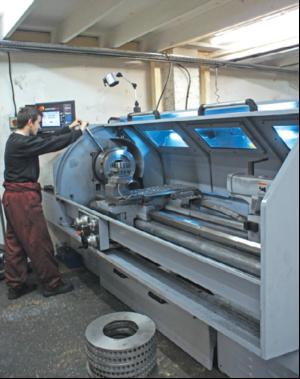 HiSpec Motorsport produces good quality, high performance braking products at prices that appeal to the general road user, the kit car enthusiast, the racer and the track day fan.

With the diameter of the grey cast iron brake discs increasing, the Kentbased company invested in a larger capacity lathe, choosing an XYZ ProTURN SLX 555 CNC/manual lathe equipped with a 400mm chuck, quick change toolpost and plain English language programmable ProtoTRAK control system.

"It's a gearbox machine with masses of torque, which means we can take bigger cuts," says HiSpec Motorsport founder, Geoff Bedding.

"In fact, we have halved cycle times when machining brake discs. Having been impressed by the ease of use of the control, the construction and power of the machine, and its very reasonable price tag, the new lathe was installed in late December and has since shown itself to be the best machine by far of all the ones we considered initially."
OTHER ARTICLES IN THIS SECTION