Home
>
Cable system allows for rotations of up to 3000°
Cable system allows for rotations of up to 3000°
25 January 2013
Machine tool applications require a number of different services including electricity, oil and pneumatics in order to run. These services are delivered to the machine tool via cables or hoses - all of which require pro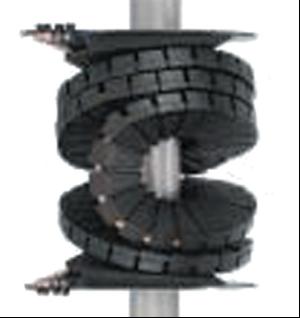 Machine tool applications require a number of different services including electricity, oil and pneumatics in order to run. These services are delivered to the machine tool via cables or hoses - all of which require protection and guidance to avoid damage and subsequent machine failure.

This is straightforward when the cables run in a linear motion. Some machines, however, have rotary motions, which render some linear cable carrying systems insufficient.

igus has developed a special purpose rotary cable carrying system, known as TwisterBand, which is suitable for use in such applications.

TwisterBand allows for rotations of up to 3000°, +/-1500°, and can reach speeds of up to 380°/s. Like all igus EChain systems, it is modular, lightweight and easy to install and fill.
RELATED ARTICLES
No related articles listed
OTHER ARTICLES IN THIS SECTION