Chance to look, listen and learn
25 January 2013
Taking place at the Royal Highland Centre in Edinburgh on 7th and 8th September,Health and Safety' 11 - Scotland will give visitors the chance to meet respected organisations, attend topical seminars and to network with o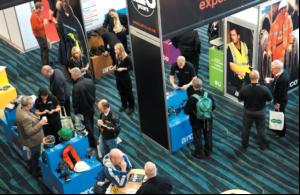 Taking place at the Royal Highland Centre in Edinburgh on 7th and 8th September,Health and Safety' 11 - Scotland will give visitors the chance to meet respected organisations, attend topical seminars and to network with other professionals. IP&E has the latest news on the event

The event will be officially opened by the director of the Health and Safety Executive (HSE) Scotland, Dr Paul Stollard.With more than 25 years' experience in the safety industry, Dr Stollard is a leading authority on health and safety issues and in addition to opening the event, he will give a presentation entitled 'Good Health and Safety, Good for Business in Scotland'.

To kick off day one of the event, Donna Hutchison, director of operations, QuEnSH Specialists, will speak at a seminar entitled 'Health and Safety Consultants - What Do They Actually Do?' This presentation will take a look at the role of the health and safety consultant and how businesses ensure that they are getting value for money.

Hutchison aims to incorporate a light-hearted session with some advice to organisations about the role of a consultant, the expectations an organisation should have and how those expectations can be defined, as well as methods to pick out the 'wheat from the chaff ' when it comes to selecting a consultant. The seminar requires audience interaction and participation - so come prepared with questions! When it comes to the workplace, safety should not be restrictive but be a positive approach to good business management.

That's why Health and Safety -Scotland will be holding, as part of its conference, a seminar entitled 'Safety is a Can-Do Business' aimed at anyone with responsibility for health and safety in their business.

Delivered by Ken Smith, divisional director consultancy services from Arc Associates, the seminar will challenge the misconceptions and discuss the benefits of doing safety right to avoid any risks. Smith says: "Safety should not be restrictive but be concerned with a positive approach to good business management; it isn't about can't do, but can do!" The seminar subjects are topical and in tune with current issues and will provide information and advice for all participants.

An example of this is shown on day two of the event with the seminar entitled 'Legal Update - Relevant Developments in H&S Law'. The seminar will give an update on health and safety law in Scotland and should appeal to those who work in any sector.

Presented by Laura Cameron, head of litigation & dispute resolution (Scotland & NI),McGrigors LLP, the presentation will include a review of legal developments over the past 12 months including consideration of the first prosecution under the Corporate Manslaughter and Corporate Homicide Act and a round-up of fines imposed around the country for health and safety offences.

Something slightly different for the Scotland event this year is a drama-based presentation entitled 'Safety Leadership and Culture' delivered by Shaun Curry and Harry Gallagher of Macnaughton McGregor which promises to be interactive, practical and effective. The organisers say their style of programmes effect a long-term change in attitude - not just a short term change in behaviour - and help to build lasting positive cultural change.

As well as the educational programmes, a Demonstration Zone is planned for the Scotland event. Sponsored by machinery safety consultant Laidler Associates, part of the machinery division of TÃœV SÃœD Product Service, the zone will host more than a dozen demonstrations and will offer free theoretical and practical information about the latest legislation and technology.

Along with event partners 3M, Ansell, Arco and Dupont, Health and Safety - Scotland is supported by the British Safety Council, Safety Groups UK and is officially endorsed by the International Institute of Risk & Safety Management (IIRSM).
OTHER ARTICLES IN THIS SECTION