Concentrates for all applications
25 January 2013
Diversey offers building care contractors and cleaning teams total flexibility to choose efficient and sustainable concentrated products for workplaces of any size. The company's QuattroSelect, J-Flex, Exact and SmartDo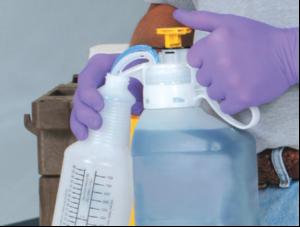 Diversey offers building care contractors and cleaning teams total flexibility to choose efficient and sustainable concentrated products for workplaces of any size. The company's QuattroSelect, J-Flex, Exact and SmartDose platforms can all be used with a wide range of concentrated products for spray bottles, buckets and scrubber driers for cleaning hard surfaces, worktops, desks and walls, sanitary areas and all types of floor.

Each platform allows users to introduce concentrates into their cleaning operations to achieve the best possible results with high levels of sustainability, safety and efficiency.

Diversey's new interactive website at www.diverseyconcentrates.com helps users to choose the right product for a particular application by answering a few simple questions.
OTHER ARTICLES IN THIS SECTION