Home
>
Engineering - routes to success
Engineering - routes to success
25 January 2013
Paul O'Donnell, head of external affairs at The Manufacturing Technologies Association (MTA) explains the need for schemes to promote engineering and manufacturing as a career to young people As representatives of the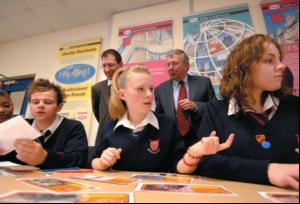 Paul O'Donnell, head of external affairs at The Manufacturing Technologies Association (MTA) explains the need for schemes to promote engineering and manufacturing as a career to young people

As representatives of the engineeringbased manufacturing sector we at the MTA are sometimes asked: "What do employers need from technician and higherlevel skills training?" I've been asked that by lecturers, politicians civil servants and quangocrats. They usually want to hear the answer "Precisely what you are offering them!" but that wouldn't be true.

The clear message from employers is that training needs to be relevant to the workplace and for that to be the case it should be flexible enough to be more job specific. In order for this is happen far better links between businesses and the training institutions, with a more collaborative approach between provider and business, need to be established.

Business led bodies are less likely to fall victim to the practice of sub-contraction.

With each level the funding passes through an administration fee is taken out reducing the funding each time - the whole point of funding is to enable the young person to benefit from state help; however, much of the funding never reaches the end recipient and is wasted on 'Management/Administration fees'. This is a far from trivial point and causes significant waste. There is a need for a mechanism to be put in place which allows accredited independent training providers - providing the service - to access funding directly.

There is a recognition right across the piece that Post 19 funding should be based on a split between the employee, employer and the state. However there are more (and less) cost effective means of delivery available. One such is via Group Training Associations, which don't carry the administrative overheads of mainstream FE colleges and can drive down cost for employers.With shared requirements between companies, locally run courses suddenly become more cost effective and business are more likely to take part. MTA member companies who are involved in them report that they are much more responsive and flexible as well as delivering better value for money.

From a trainee's perspective the progression pathways from 14-19 vocational qualifications to advanced and higher apprenticeships and then on to foundation or Bachelor's degrees can be very difficult to identify. Information, advice and guidance, particularly in schools, is universally reported to be woeful. There is such a lack of understanding of engineering that advice is poor. Schools do not always have a positive approach to the vocational route, especially in recognising that it can often be the most appropriate for their more able students.

That lack of clarity about the options that are out there is one reason why there is a need for schemes to promote engineering and manufacturing as a career to young people. The MTA is involved in two such programmes: Imagineering was set up by an MTA stalwart, Bob Shanks, and runs afterschool clubs designed to encourage primary school children to enjoy and develop STEM skills. The success of these clubs has seen them spread rapidly across the UK and there are now 150 nationwide. A further 100 are expected to be created over the next few years. Imagineering also runs fairs across the country around four times per year - the largest being Stoneleigh Park over the August Bank Holiday weekend. Activities and support from businesses attract thousands of visitors. See www.imagineeringweb.co.uk for more details.

The TDI Challenge is a national competition for budding engineers. Split into two age groups (14-16 and 17-19) entries come from schools and colleges across the UK. A prestigious finals day is hosted by Yamazaki Mazak in Worcester with finalists presenting to a panel of industry judges. The top three in each age group are awarded prizes. It is a great opportunity for high achieving young people to get the inside track on engineering based manufacturing and last year we were delighted that one of the winners subsequently opted to do an apprenticeship with an MTA member As regards that next stage of an engineer's development, in 2008,MTA launched its own Apprenticeship scheme to encourage member companies to invest in Apprentice training. £100,000 was made available to support members with a turnover of less than £5million taking on a new Apprentice.

The success of the scheme prompted the Committee to commit to further years and the MTA has now supported over 30 new apprentices joining the industry.
RELATED ARTICLES
No related articles listed
OTHER ARTICLES IN THIS SECTION