Sony secures savings
25 January 2013
The West Sussex manufacturing plant of Sony DADC UK is saving more than 700,000kWh per year from its compressor-installed energy recovery systems and has gained a secondary, back-up heating source into the bargain. T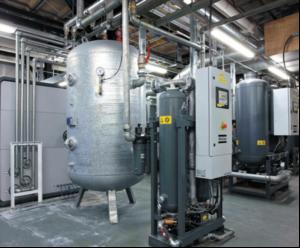 The West Sussex manufacturing plant of Sony DADC UK is saving more than 700,000kWh per year from its compressor-installed energy recovery systems and has gained a secondary, back-up heating source into the bargain.

The plant operates two independent compressed air networks at 7 and 8.4 bar with the principal input coming from an Atlas Copco ZR160VSDFF oil-free, water-cooled rotary screw compressor. Energy is recovered from this unit and used for office heating, heat for the packing area and condensation protection inside the warehouse complex.

The compressor has an integral energy recovery capability that enables hot water to be taken from its outlet at temperatures to 85°C, a standard or retrofit option available on Atlas Copco water-cooled compressors in its ZR55-900 range.

Hot water returns at about 35°C in a closed loop. Usable heat is transferred to other site operations by means of plate heat exchangers; the network is controlled by the site's BMS.

Dean Shackel, facilities manager, says energy recovery figures come to 100-110kW on average from the ZR160VSDFF alone and that total savings from use of the recovery feature and hot air use from the outlet of two other Atlas Copco aircooled units, comes to over 700,000kWh/year.
OTHER ARTICLES IN THIS SECTION