Lifting standards
25 January 2013
PAL is Verlinde's latest range of lifting beams for loads of 125 to 10,000kg. With its rupture safety factor rated 5, the PAL range is manufactured to standard NFE 52210 and classed FEM5. The lifting beams have no load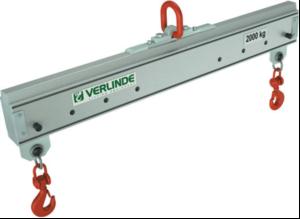 PAL is Verlinde's latest range of lifting beams for loads of 125 to 10,000kg.

With its rupture safety factor rated 5, the PAL range is manufactured to standard NFE 52210 and classed FEM5. The lifting beams have no load bearing welded parts, are rustproof and coated with RAL1028 glycerine paint. All models are fitted as standard with bow shackles, reel hooks and safety latches.

Many options are available such as 'Y' type models with 3 hoisting points or 'X' type with 4 hoisting points, galvanised spreading beams, special lifting beams, lifting beams for Big Bag systems or special aluminium lifting beams for light hoists.
OTHER ARTICLES IN THIS SECTION