Loads of work in store
25 January 2013
Transdek reports strong demand from major retailers for its V2G (Vehicle-To-Ground) Loading System. The company is in the process of converting the top 100 stores for one of the UK's largest supermarket retailers to ac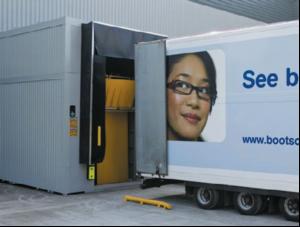 Transdek reports strong demand from major retailers for its V2G (Vehicle-To-Ground) Loading System. The company is in the process of converting the top 100 stores for one of the UK's largest supermarket retailers to accommodate deliveries from double-deck trailers, and has confirmed orders from another two supermarket groups.

It is in talks with architects from one of the supermarkets regarding the V2G system's ability to allow new stores to be built without vehicle ramps or raised docks, saving on construction costs and minimising unprofitable back-of-store space. The system can also be cost-effectively retrofitted, allowing previously 'dead space' to be redeployed as retail space.

The V2G range is supplied as a pre-clad, pre-tested loadhouse unit, providing a ready-made temperature-controlled and secure environment for the protection of products between vehicles and the warehouse.The V2G is surfacemounted and can be installed and operational within a day, without the requirement for any pre-dug, pits or other costly enabling works.
OTHER ARTICLES IN THIS SECTION